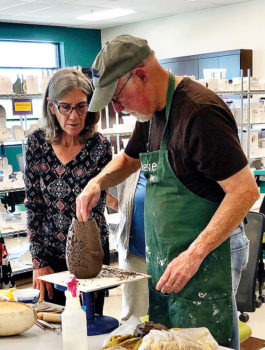 Arlene Wong
On May 23, 15 members of the SBR Mudslingers Pottery Club were treated to a puzzle pot class conducted by long time and talented SaddleBrooke pottery studio members, Dick Bynum and Steve Law.
Clay is a natural product dug from the earth, which has decomposed from rock within the earth's crust for millions of years. Pottery is clay that is molded, dried and fired, usually with a glaze or finish. The potter can form his or her piece in one of many ways.
In this particular class, we learned how to use two separate molds to form one vessel. During the class, clay in a pliable state was pressed into two specially made plaster molds that when put together formed a vase. While the clay was placed in each of the molds, the exterior decoration is created by the use of coils, balling or twisting clay to create a pleasing design.
After it was decorated, the clay still inside the mold pieces were joined using the simple technique of scoring and adding slip (slip is a liquid mixture or slurry of clay and water), then held together with thick, wide rubber bands for additional support while it set. Once the clay set, in about 24 hours, the molds were removed and we're left with a clay ceramic pot or vase ready for firing in the kiln. We all enjoyed learning about this unique technique called puzzle pot.
After the pottery piece has been fired, it's considered bisque and ready for glazing. Bisque is derived from the French "bisquet" meaning half-baked. Once the piece is in the bisque stage you can dip the item into the glaze, or paint the glaze onto the newly-fired piece. Once glazing is complete it is fired again to seal the glaze.
The use of molds is but one of many ways possible to build and form a piece. There are also many techniques to glaze and decorate. If you have an interest in learning how to build and work with clay, please stop in the studio Tuesday or Thursday, 9:30 a.m. – 3:30 p.m. or Friday, 1:00 – 3:30 p.m., for more information or to join the Mudslingers!