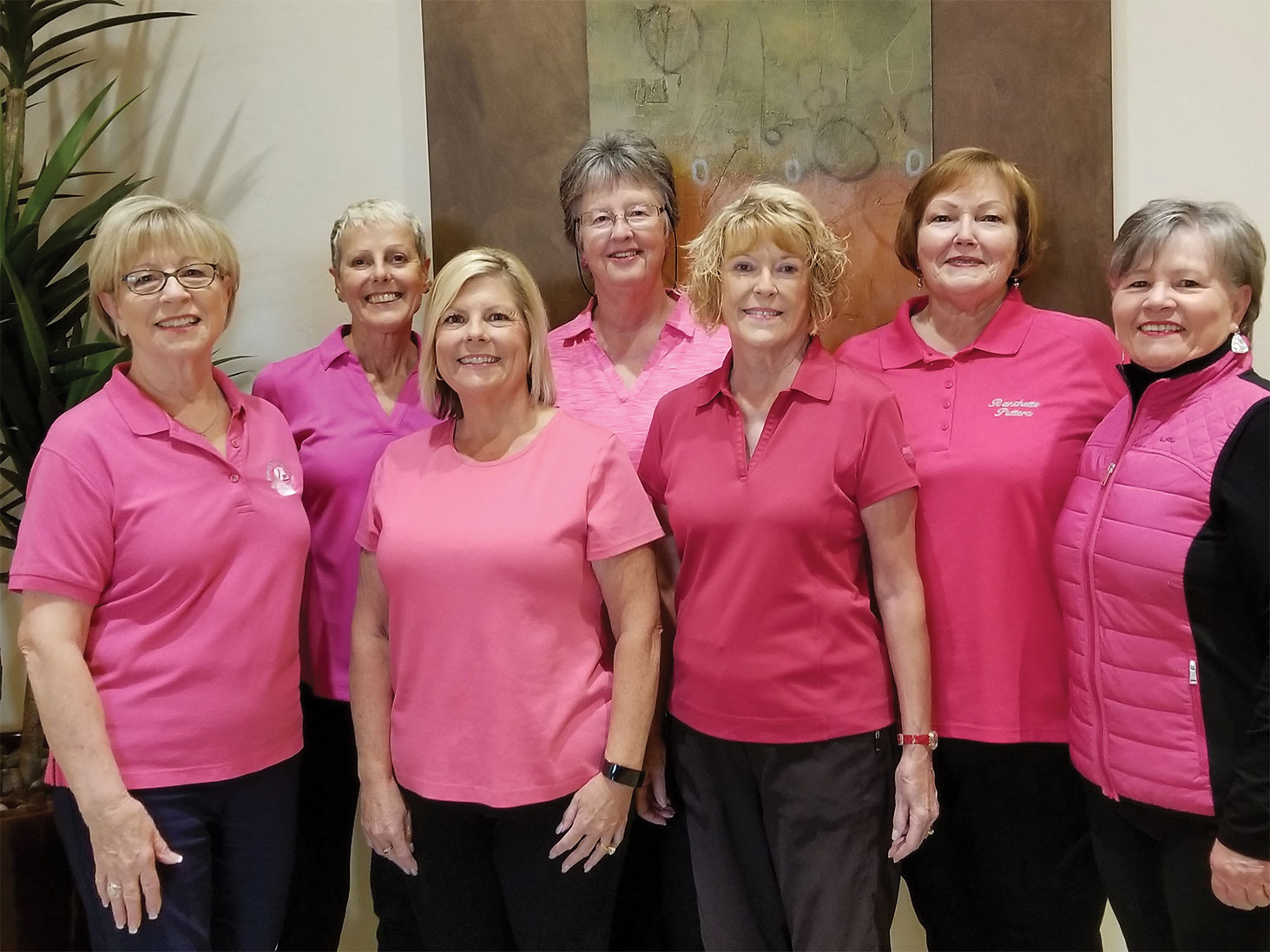 Camille Esterman
Sunny skies and warm temperatures provided the perfect background for the Ranchette Putters' first outing of 2018. The ladies meet every Wednesday morning on the 18-hole putting green to test and improve their skills. Sounds of laughter, encouragement and hearty congratulations are often heard during their sessions. Putting is always followed by social time, including monthly meetings.
On January 3 Ranchette Putters welcomed these enthusiastic volunteers, making up the 2018 board: President Vicki Godbey; Vice President Jacque Hendricks; Secretary Cindy Heck; Treasurer Dianne Bradley; Statistician Jeanne Bianchini; Membership Marian Bianchini and Events Mary Schlachter.
Committee leads for 2018 include: Webmaster TBD; Publicity/Photos Debby Felzien; Publicity Writer Camille Esterman; Shirts and Apparel Joann Pritchard; Board Prep Randy Brosnahan and Elaine Klicker; Set Up Scheduling Janice Neal; Set Up Reminders Nancy Galant; Sunshine Monica Gustafson and Sponsorships Debi Kerth and Corky Mansmith.
Ranchette Putters also recognized and thanked the outgoing 2017 board, consisting of: President Nancy Galant; Vice President Vicki Godbey; Secretary Terry Barringer; Treasurer Mary Schlachter; Statistician Jeanne Bianchini; Membership Marian Bianchini and Events Cindy Heck. Outgoing committee leads were: Webmaster Roberta Hanson; Publicity/Photos Deb Lawson; Publicity Writer Linda Nicholson; Shirts and Apparel Ann Terrell; Board Prep Ellen Barton and Mary Tiemann; Set Up Scheduling Linda Thomson; Set Up Reminders Karen Gressingh and Sunshine Lori Rounds.
In 2017, Ranchette Putters participated in the SBR Club Expo, held an event benefiting the Pima Animal Shelter, brought donations for the Sister Jose Shelter for Women, hosted the Verde Sputters from SB HOA 1, and were invited to putt with the Mountain View Lady Putters from SB HOA 2.
Sunset couples golf was so popular that two events were held, each with rounds of putting, followed by prizes and happy hours. Independence Day was celebrated with patriotic obstacles decorating the course. A continental holiday brunch featured a special guest, Gerri Koen, the founder of the SBR Ranchette Putters.
Finally, SBR Golf Pro Mike Jahaske provided a putting clinic that included a group lesson and one-on-one training. 2017 proved to be a banner year, full of fun activities arranged by our tireless outgoing board. Congratulations to all of them on a superb job, including no cancelled sessions!
Special thanks also to the club's new sponsors: Oracle Land and Homes, Les and Leslie Brown; Safco, Eckmeyer Insurance Services, Charlotte Eckmeyer; New York Life, Dennis Eckmeyer CLU, CHFC, LUTCF; Oakley Signs & Graphics, Ken Levitt; and Patrick Schaffer, DDS. Their contributions help make our events possible.
Ranchette Putters welcomes guests and new members. The club putts on Wednesday mornings at 9:00 a.m. No experience is necessary, just a golf ball, putter and desire to socialize. Plan to arrive at 8:45 to be assigned to a team. For additional details on membership, contact Marian Bianchini at [email protected]