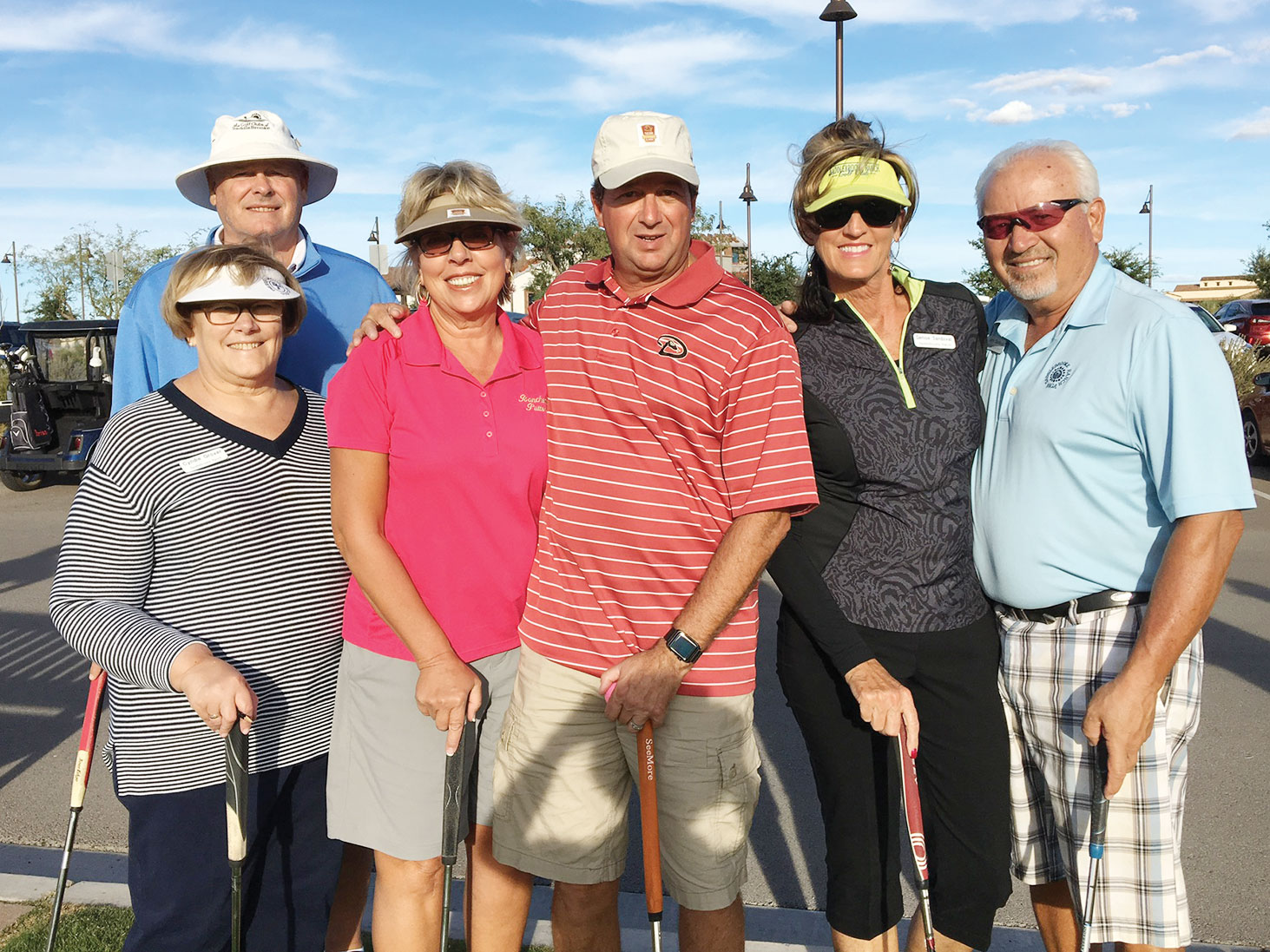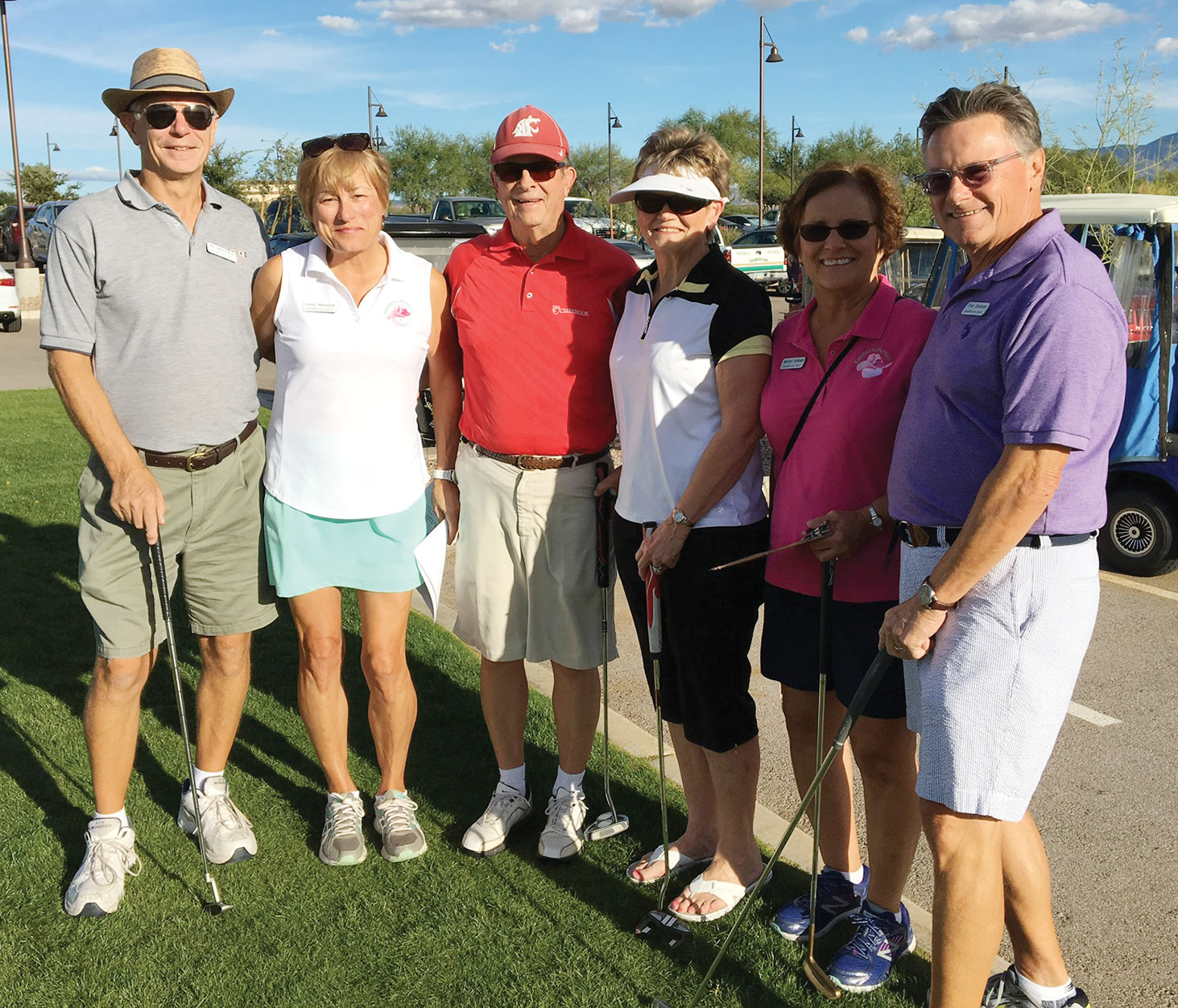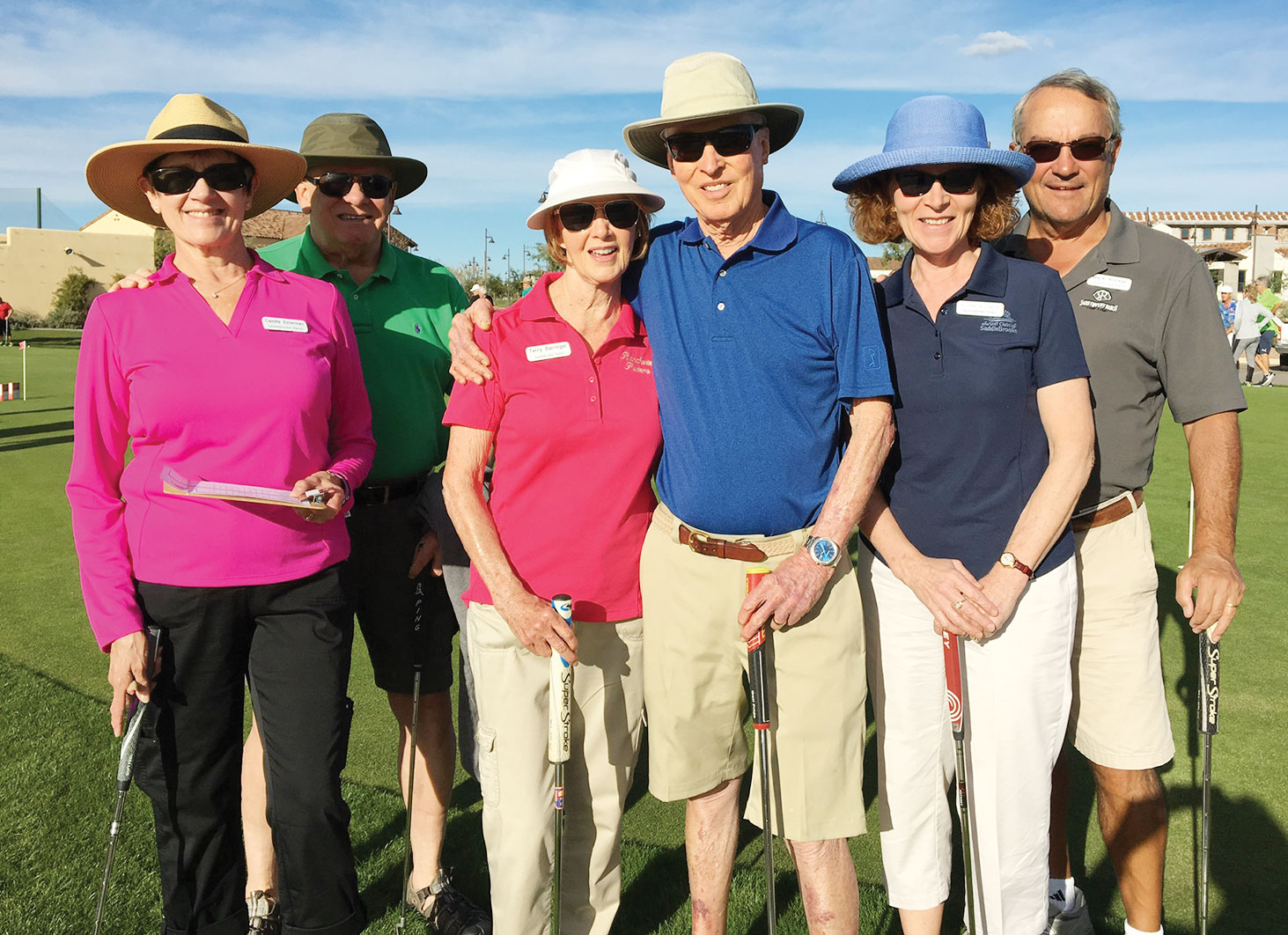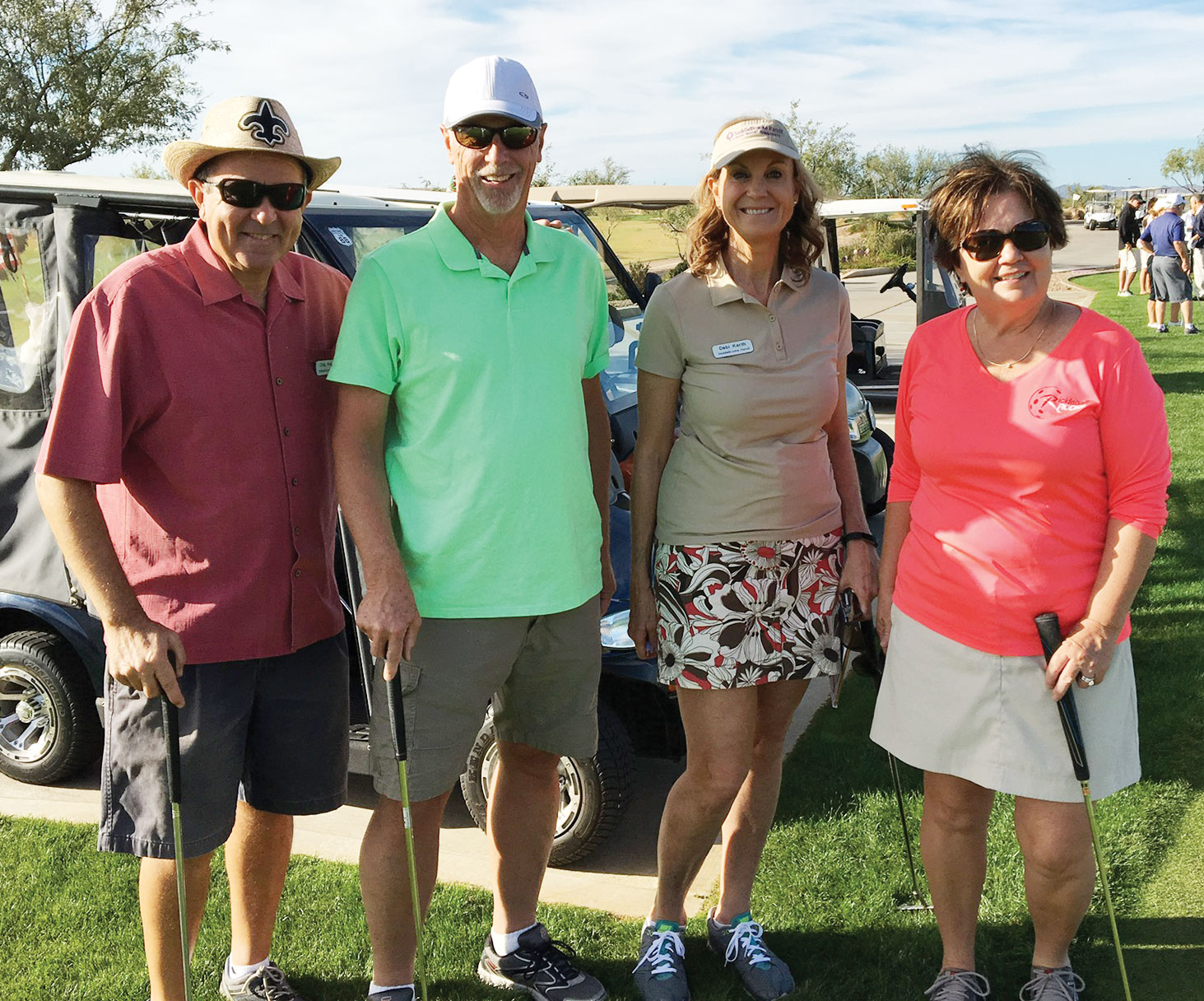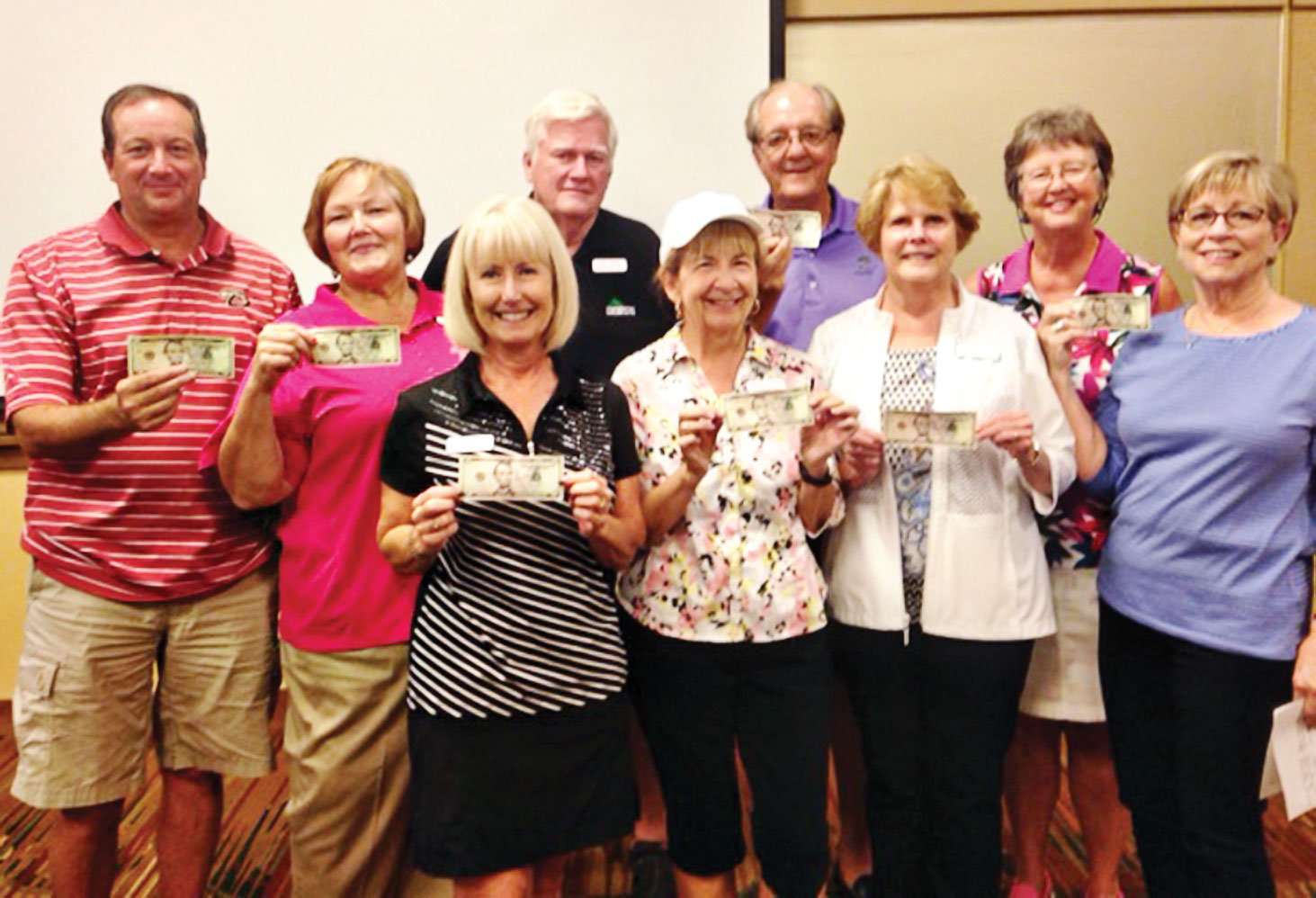 Linda Nicholson
On November 8 the Ranchette Putters hosted their second Friends and Family putting event this year. The club members signed up to putt with their spouse, friend or family member. It was so popular in the spring the club decided to expand the teams from four to six players on each hole.
At 3:45 on a beautiful fall afternoon 18 teams eager for the challenge gathered on the SaddeBrooke Ranch putting green. Following President Nancy Galant's review of the rules, the friendly competition began. Even with prize money on the line the teams encouraged one another with comments "straight to the hole" and "good read." Even with a larger group, putting went smoothly except for the back-up on Hole 13, which was the money hole. There were nine winners of the money hole, so the time spent on putting strategy was worth it.
After the putting challenge, which included a few obstacles, the group returned to the La Hacienda clubhouse for beverages, social time and to learn who received bragging rights. Sinking the ball in one stroke on the Money Hole, prize money was awarded to Dianne Bradley, Jeannie Bianchini, Debby Felzien, Bob Garrison, JD Olsen, Sam Rossi, Mary Schlachter, Anne Terrell and Debby Trapp.
There was no frost on these pumpkins. Bringing in second lowest team score at 37.0 was awarded to Pat and Tom Kanitz and Debby and John Trapp. Lowest team score of 36.83 went to Cyndie and Brian Grover, Ardie and Sam Rossi and Denise and Larry Sandoval.
Thank you to the set-up crew Gloria and Dick Ihrig who provided some interesting fall obstacles. Thank you also to Cindy Heck, event coordinator, and her many assistants.
Ranchette Putters would like to thank their club sponsors: Oracle Land & Homes, Les and Leslie Brown; Safco, Eckmeyer Insurance Services, Charlotte Eckmeyer; New York Life, Dennis Eckmeyer CLU CHFC, LUTCF; and Oakley Signs & Graphics, Ken Levitt.