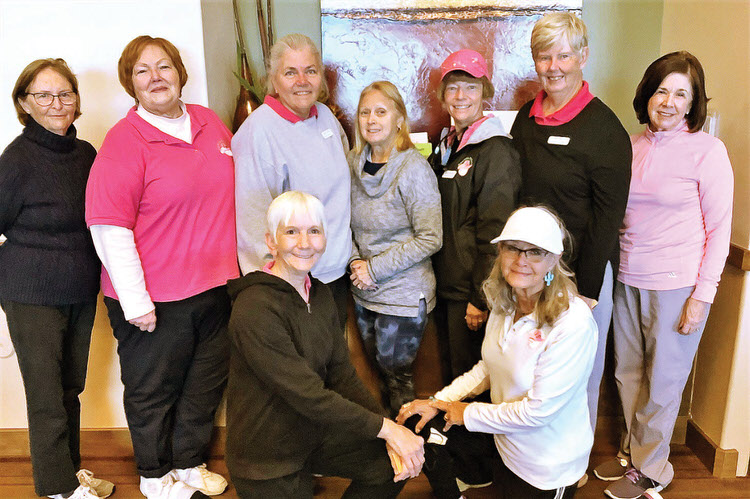 Camille Esterman
Cloudy, cold, damp, windy weather greeted the Ranchette Putters on Wednesday mornings in January. Bundled up in winter clothing, ladies faced challenging and changing conditions—including a brief rain shower as a putting session ended and everyone rushed into the Hacienda Club.
The initial layer of cold, damp precipitation often caused the green to run fast, until the fierce winds dried it out. With only nine holes cut into the grass, bumpers provided an additional challenge for the putters. Any ball touching a bumper was considered to have dropped into the hole—which was easier said than done!
Monthly prizes are awarded to putters with the first, second, and third lowest gross average scores, members who sink six or more holes-in-one, and ladies with the first, second, and third lowest net average scores.
Ranchette Putters congratulates its January winners. The third lowest gross average was recorded by Sue Marx with 37.000. Doris Carlin took second place with a gross average of 36.667. A stellar performance by Mary Schlachter placed her on top with a gross average of 35.333.
The following ladies conquered the January weather conditions and succeeded in acing a putt six or more times in January: Anne Ratterman (10); Evie Thompson (8); Sue Marx, Ardie Rossi, Mary Schlachter, and Mary Jo Stastny (7); Doris Carlin and Nancy Eisenstein (6).
Using handicaps has allowed the club to award prizes to another group of winners each month. Third place went to Sheliah Drewienskowski with a net average of 36.700. Tied for second place were Janice Hynes and Anne Ratterman with net averages of 36.100. Ardie Rossi had the best net average with 34.600.
Ranchette Putters is amazed at the perseverance and talent our January winners displayed. The club invites all female residents of SBR to join us for a fun weekly event. Check out our bulletin board by the pro shop for more information or contact Corky Mansmith [email protected].