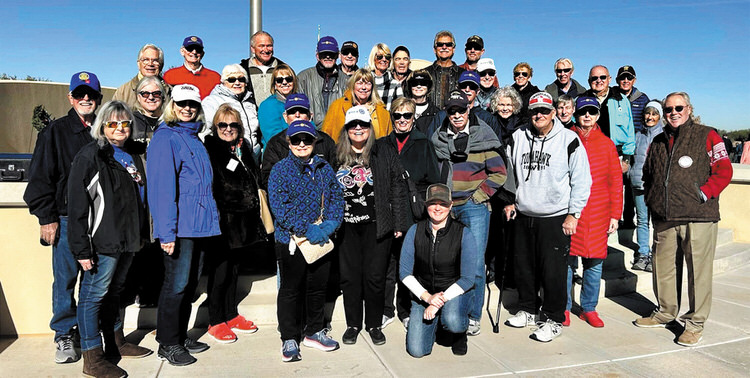 Barbara Barr
Members from all the Rotary Clubs in northwest Tucson gathered at the Marana Veterans' Cemetery to participate in Wreaths Across America on Dec. 17. This included members from the Rotary Club of SaddleBrooke and the Rotary Club of SaddleBrooke Sunrise as well as the Rotary Clubs of Marana, Dove Mountain, and Oro Valley.
The clubs are all in Region 6, with Assistant Governor Barbara Barr. The joint event was organized by Gordon Wainwright, president of the Rotary Club of SaddleBrooke. Linda Howard, also of the Rotary Club of SaddleBrooke, inspired the project and helped set up a lunch gathering for participants after the laying of the wreaths.
During the ceremonies, special mention was made about the northwest Rotary Clubs. These northwest Rotary Clubs were significant contributors to the purchase of wreaths for the Marana Cemetery. When Wreaths Across America was 50 wreaths short for the Marana location, these clubs stepped up again so that every grave could have a wreath. Members represented each club at the Dec. 17 ceremonies. Following the laying of the wreaths, the group met at Dove Mountain Brewery for lunch and fellowship.
To tell you a little more about the Rotary story, Rotary is the world's first service organization. Today, Rotary has grown to be the world's largest volunteer organization. Rotarians can be found in more countries than the Red Cross, Starbucks, or even McDonald's.
The Rotary Club of SaddleBrooke is not only an award-winning organization devoted to making a difference locally and globally, it is also a club that enjoys coming together for lunch and life-long learning. We currently meet weekly at the Ranch House Brewery and Grill at SaddleBrooke Ranch. We also enjoy getting together for social events and service projects. We have fun making a difference.
The Rotary Club of SaddleBrooke is open to anyone who is living or working in SaddleBrooke, SaddleBrooke Ranch, Oracle, Catalina, Oro Valley, and all surrounding communities. For more information, contact Wendy Guyton at 520-404-5712 or [email protected].