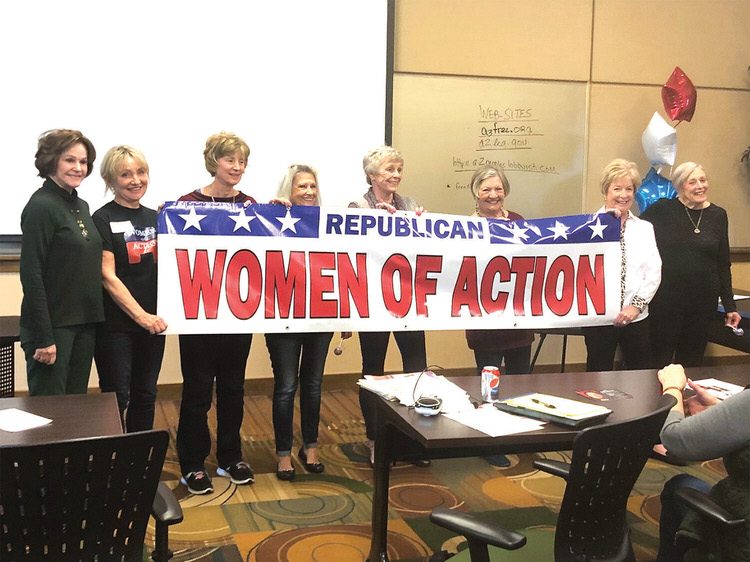 Judy Smith
The Republican Women of Action (WOA) announced they became an official club at their Feb. 28 meeting. Carolee Bailey, president, made the announcement that, "While we will remain a group of like-minded women, we have much work to do." While gaining information about issues is important, it is also important that people know how to respond. their goals of educating members and promoting smaller government, less taxation, and more personal freedoms will gain strength by being an official club. WOA gives its members an opportunity to become active in the local community as well as at the federal and state levels, and to be effective in outcomes.
Carolee introduced the advisory board members: Carolee Bailey, president; Dianne Johns, 1st vice-chair; Nancy Borcalli, 2nd vice-chair; Judy Smith, secretary; Marion Ewing, treasurer; Nancy Hugus, social; Colleen Carey, speaker chair; Lisa Prose,membership; Joanne Sharples, candidate vetting; Marilyn Erdei, education and corporation watchdog; and Jean Powell, club historian. These women will serve until December.
Michelle Ludwig, regional director of voter integrity, also gave a video presentation of Ballot Initiative 2022, which, if passed by the general electorate, would require voter identification for both mail-in ballots and in-person voting. The initiative would help reduce ballot harvesting. Eighty-four percent of Arizonans support the measure.
Dianne Johns and Nancy Borcalli gave a presentation on True the Vote, an organization pledged to clean up voter rolls, making voter fraud a felony and stopping voting by mail and unmonitored drop-boxes. They also encourage citizens to be poll watchers.
The Women of Action January meeting featured a candidate for Arizona State Superintendent of Public Instruction, Shiry Sapir, who spoke of her goals for the education of Arizonan children. She favors school choice, patriotic education, parental rights, common sense, and transparency, and hopes to bring those goals to the Arizona Department of Education.
The meeting also featured Ellie Brown, who is running for justice of the peace in our district. If elected, she would continue to preside over misdemeanor crimes committed in the Copper Corridor District. Her district includes Eagle Crest, Oracle, San Manuel, Mammoth, and small towns next to Superior.
Mike Sloan, who is running for constable in our district was the next featured speaker. This job entails serving eviction notices, subpoenas, and dealing with domestic, drug, and civil disputes. He is running for re-election.
The Republican Women of Action offers opportunities to meet candidates, discuss issues, get informed, and achieve the ability to make your voice heard.