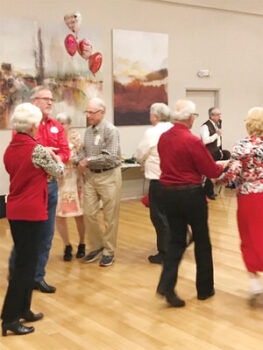 Richard Martin
On Feb. 11, the SaddleBrooke Ranch Rancheros joined the SaddleBrooke Squares square dancers for a special Valentine's Day party in HOA One's Vermillion Room. The room was filled with heart-shaped balloons and other Valentine's Day décor, as well as square dancers wearing red and white attire.
If you are interested in dipping your toes into the wonderful world of square dancing, you can sign up for lessons during which friendly instructors teach the basic moves to even the most dance-challenged individuals (as a prior Arthur Murray dropout, I can attest to that). Basically, a lesson starts with a review of the two to three calls learned the previous week, followed by the introduction of two to three new calls. After that, our students put the pedal-to-the-metal on the dance floor, dancing to music.
One of the great things about learning to square dance is that there are always experienced dancers around to help you, and that is how things started out at the Valentine's Day dance. The students had their lesson followed by a practice dance with the club's long-time dancers.
Then this special evening continued with our Plus dance, where our experienced dancers danced to not one, but two national square dance callers, Bob Asp and Richard Lane.
The good news was that all our dancers burned off enough calories on Feb. 11 to overindulge on chocolate on Feb. 14.
If you want to get off your couch once or twice a week and engage in some physical and mental exercise while making new friends, square dancing is for you! Go to ​​saddlebrookesquares.com to learn more, and think about joining us for our September free introduction to square dancing.