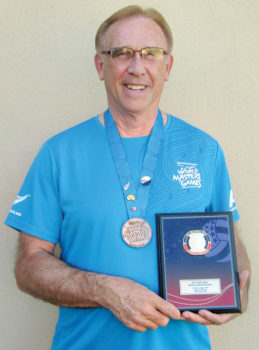 A common saying in the sports world is "challenge yourself." This year provided a great opportunity for avid volleyball player Don Williams to do just that. In the world of volleyball the two biggest tournaments in the United States are the U.S. Adult Open National Championships, which were held this year in Minneapolis, Minnesota in May and the National Senior Games, which are held every other year and were played this year in June in Birmingham, Alabama. What made this year special is that in addition to those two tournaments Don also had the honor of playing in the World Masters Games, which was held in April in Auckland, New Zealand.
The World Masters Games is conducted once every four years somewhere in the world. It is the Olympic Games for athletes 35 years old and older. It has all the elements of the Olympics that we are all familiar with. There was an opening ceremony at a 70,000 seat stadium where 27,000 athletes representing more than 100 countries from around the world gathered to enjoy the festivities that included a fantastic laser light show. There was a major production about New Zealand performed in the infield of the stadium followed by a parade of the athletes by their sport. There was a total of 28 sports with competition held all over the city of Auckland. After the tournament Don and his wife Rebecca enjoyed a 10-day tour of New Zealand with some of his teammates and their wives.
Don played on the men's volleyball team that represented North America at the World Masters Games. His teammates are from all over the U.S. and two players from Canada. Don was the only player from Arizona and has played with several of his teammates internationally before in such countries as Brazil, Argentina and China. During the Games Don's team played teams representing New Zealand, Australia, Japan, Russia and several other countries. In Don's age division, a U.S. team from Hawaii won the Gold Medal, Russia won the Silver medal and Don's team representing North America won the Bronze Medal. Don said it was an honor and privilege to be able to represent North America at the World Masters Games.
In Minneapolis Don's team finished first in its playoff division in the U.S. Adult Open National Championships. This was a somewhat different team than the team Williams played with at the World Masters Games. Don plays the position of middle blocker for whichever team he is with at any given tournament. At the National Senior Games in Birmingham, Don played with yet another team which finished fifth in the nation.