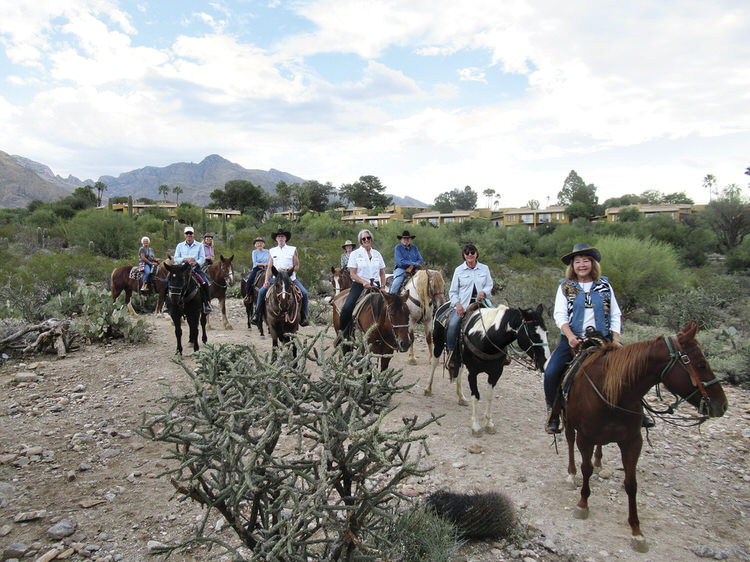 Rebecca Williams
The Horseback Riding Group was treated to a ride closer to home on Oct. 15. Westward Look Resort on Ina includes a riding stable open to the public with a trail ride through a very pretty, natural desert area with beautiful views of the Catalinas. This is a perennial group favorite as it is not far from the Ranch and offers surprisingly interesting desert terrain that seems somewhat remote despite its urban setting.
The group is planning a ride on Dec. 10 at Donnelly's D-Spur Stable in Gold Canyon. This spot is on the far eastern edge of Phoenix and offers beautiful views of the Superstition Mountains in addition to often being just a bit warmer. This will be the final ride of the fall season. The group will go on hiatus for January and get together again Saturday, Feb. 4, for the start of the spring rides.
If you would like to participate, you can go to the SaddleBrooke Ranch HOA website, click on "Things to do," "Clubs," click on "Horseback Riding," and then on the link you will see there. Details on this ride will be posted there under "News." To sign up, select "Contact Us" in the lower left and enter the information requested including your preference of time. This will then alert the secretary, who will then get in touch with you to finalize your reservation. Note that some time slots may have already been filled. Payment is made directly to the stable the day of the ride. All trail rides are at a walk, just to enjoy the scenery.