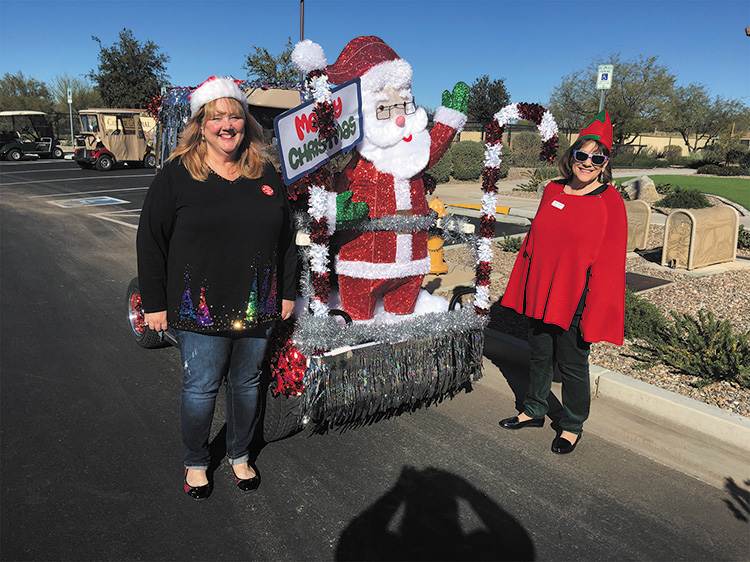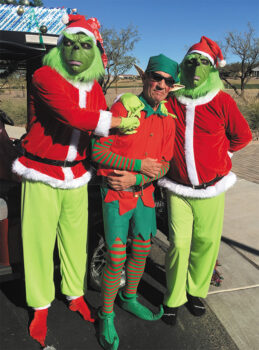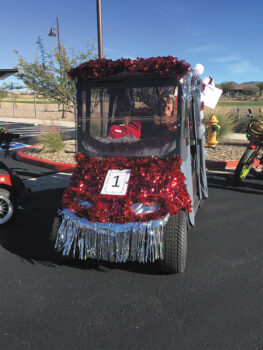 Linda Shannon-Hills
The weekend fanfare began on Dec. 13 with the SaddleBrooke Ranch Holiday Parade leaving the new Ranch House with five electric carts and two bicycle entries decorated for the holidays   At 2 p.m., the procession left the Creative Arts and Technology Center and went around Amenity Drive.
As always, we had many clever carts decorated for the holidays. This year, the Grinch's cart was hosting one of Santa's elves, and the lovely Santa's helpers appeared in their red dresses. Holiday décor on our two bicyclists, with their canine companion, looked wonderful; they weren't working the pedals of their electric bicycles too hard, but they still hurried. The other carts were very inviting, and we are happy they joined the holiday sprint.
Ballots were provided by Ranch House staff, and neighbors could vote for "Most Silliest," "Most Festive," and "Overall Most Favorite."
The winners of the 2019 Holiday Parade were presented their awards during the break at the Christmas and Hanukkah Holiday Singing.
* Overall Winner – Monica and Ron Gustafson, cart #5 – presented with a $50 Bistro Gift Card and a bottle of wine
* Most Festive – Beth and Judy Keefer, cart #1 – presented with a $30 Bistro Gift Card and a bottle of wine
* Most Funniest, Silliest – The Grinch and Elf Cart with Don Hendricks as Grinch #1, Tim McCauley as the elf, and Brian Crowe – presented with a $15 Bistro Gift Card and a bottle of wine.
We want to thank all the other participants that took the time to decorate their carts. The following were awarded a bottle of wine as well:
#2 Tom and Kelly Reuter – two bicycles with River the dog
#3 Jacque Hendricks and Liese Razzeto
#4 George and Vicki Price and friends
We also want to thank the HOA for their help with the parade.