Monthly Pet Donation Drop-Off Program
Karyle Steele
Our various pet charities are always in need and are always thankful for your donations. Please consider dropping off any of the items listed below. Cash donations are also accepted and appreciated. The drop-off location is at HOA 1 (SaddleBrooke) bocce ball courts. It is the first Friday of every month. Please do not leave items unattended.
May through August drop-off hours are 7:30 to 8:30 a.m. September through April hours are 8:30 to 9:30 a.m.
We accept most pet-related items that are in clean and good condition. We also accept clean towels, which are used in our shelter's clinic. Food is always needed.
We are now accepting sheets, which will be used by AZ Vet Santa Cruz. They serve low-income families in Southern AZ and the Copper Corridor with spay and neuter service at a low cost.
We cannot accept any poly-filled items such as pillows as they present a choking hazard. Nor can we accept any rugs with rubber backing. Any items accepted are at the discretion of the volunteers.
Thank You, Neighbors!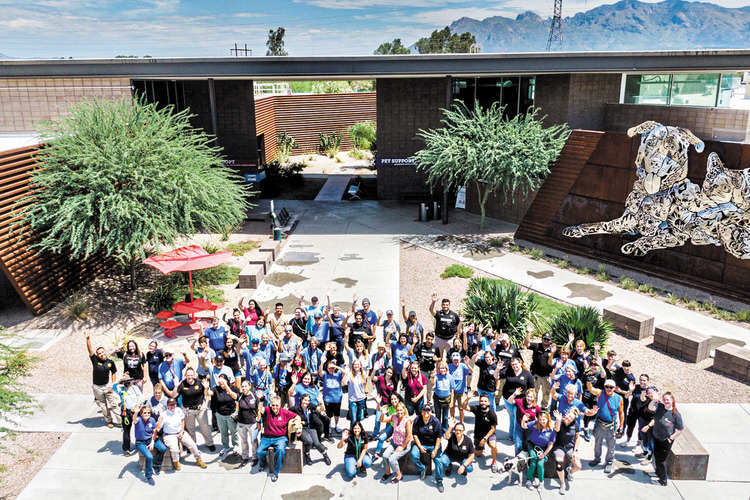 We want to take this opportunity to thank our neighbors who donated items for the Pet Rescue Boutique at this year's I Don't Want It Sale. Thanks to our neighbors who came to support us at the sale (in spite of some rain showers) and purchasing some of the beautiful jewelry and accessories we had on display. We had such a number of high-quality items to sell this year and this really contributed to our final results.
Thanks also to the Wags and Walkers volunteers for your hard work preparing for this year's sale. A special thanks to this year's co-chairs Monica Gray and Kay Erb. Your efforts on behalf of the pets at Pima Animal Care Center (PACC) totaled an amazing $3,600! Our continued success with this fundraiser is due in large part to the efforts of this dedicated group of animal lovers.
This is our 13th year participating in the I Don't Want It Sale for the benefit of the pets at PACC, and each year gets better. We sold a good portion of the donated treasures, but not all, so we were able to pass on some of our remaining items to Cherished Tails Senior Sanctuary (rescues mainly senior dogs and cats).
The proceeds from this year's sale have been distributed as follows:
* $1,200 to Friends of PACC to be used for the Noise Abatement Shelter Project at PACC
* $1,200 to the TOP Dogs Project, a group of certified dog trainers who volunteer their time to provide behavior support for PACC dogs and their adopters, fosters, and volunteers
* $1,200 to support the PACC clinic in their lifesaving efforts
SaddleBrooke and SaddleBrooke Ranch are communities of pet lovers, and you continue to support the lifesaving efforts at Pima Animal Care Center through volunteering and fundraising. PACC has been experiencing critical overcrowding for over a year and donations are greatly needed to provide the care these pets' needs. Thank you again for your support!