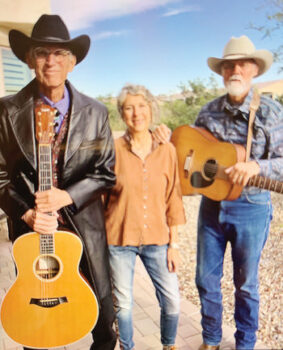 Nancy Carlson
Three residents from SaddleBrooke Ranch will perform a free concert on Saturday, Feb. 5 at 7 p.m. in the Sol Ballroom at the Ranch. Bruce and Nancy Carlson, and Ken Wilcox, sing as Carlson/Wilcox 47, or CW-47. This talented trio has been together at the Ranch for 20 months, but their collective experience of more than 55 years playing music on both coasts better reflects the great sound they have.
Carlson/Wilcox 47 plays a variety of music, including originals and covers of both current and traditional folk songs, reflecting the style of James Taylor, Jim Croce, Joni Mitchell, Ian Tyson, and others. You could call their music Southwestern Folk Americana.
Ken Wilcox is a devotee of finger-style acoustic guitar and also plays the autoharp and ukulele. A recent transplant from San Diego, he continues membership in San Diego Folk Heritage and the International Western Music Association. Ken has played various Southwest cowboy poetry/music festivals with Trails and Rails, as a Sundown Rider, and Ken's own group, Sidewinder. His last San Diego project was a Bob Dylan tribute band, Montague Street.
Bruce and Nancy met at a New York college and started singing at coffee houses, wine and cheese cafes, and folk festivals. Bruce writes much of their material and has a song on an album produced in Nashville. At the 2018 Tucson Folk Festival, he was a finalist in the lyric competition. They've played many other venues in New Mexico and Arizona, including several gigs at the Music in the Park Series at Catalina State Park, and a Dark Sky concert at Oracle State Park.
CW-47 is geared to a listening audience who will appreciate the lyrics, complex harmonies, and intricate work on acoustic instruments. So come on out for an evening of music, both laid back and energetic—a good cross section from early folk days, the '70s, and up to today.
The concert is free, but there will be a tip jar for donations and CDs for sale. All proceeds, after paying SBR charges for room setup and chairs, will go to charities supporting local jail ministries and rescue missions.