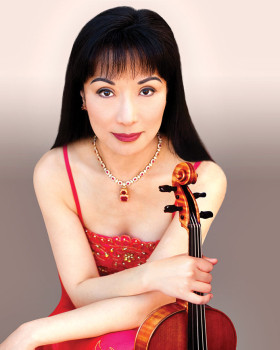 Punch Howarth
A concert of 20th Century works are featured in the April concert of the Southern Arizona Symphony Orchestra. Opening the program will be Psalm 22, a new work by Michael Kiefer who is principal trumpet in SASO. Hong-Mei Xiao will be featured soloist in Bohuslav Martinu's Rhapsody-Concerto for Viola and Orchestra of 1952. Following intermission the winner of the Dorothy Vanek Youth Concerto Competition will perform a concerto movement. Both the winner and his or her selection will be announced later. Concluding the concert will be the popular Masquerade Suite of Khachaturian.
Soloist for the Martinu viola concerto, Hong-Mei Xiao, was the first place winner of the Geneva (Switzerland) International Music Competition for her magnificent artistry and virtuoso technique. She also won the prestigious Patek Philippe Grand Prize in Europe. Her international career includes a Naxos CD recording of Bartok's Viola Concerto with critical acclaim and also recordings of British composers William Walton, Vaughan Williams and Arthur Bax with the Budapest Symphony. Her latest CD was the complete works for viola and orchestra by Ernest Bloch in 2013 for Naxos. In addition to her recital schedule she was named a United States Artistic Ambassador. A native of China, she is a graduate of the Shanghai Conservatory of Music and State University of New York at Stony Brook. Ms. Xiao was principal viola with the Minnesota Orchestra and on the faculty at University of Michigan and Eastman School of Music. She is now on the faculty of University of Arizona Music School.
Aram Ilyich Khachaturian, 1903-1978, was born in Tbilsi Armanian Georgia, later USSR. He moved to Moscow in 1921 and studied at the Gnessin Institute with Myaskovsky and Moscow Conservatory with Gliere. Along with Prokofiev and particularly Shostakovich, he was denounced by Soviet music censors as being a formalist (European) and anti-people composer. His main compositions are three symphonies, tjree concertos and is best known for ballets Gayane (Sabre Dance) and Sparticus. He composed film music and incidental music for plays, one of which is his score for Mikhail Lermontov's play Masquerade in 1941 about 19th Century nobility. The music is best known as a suite in five parts. Masquerade Suite opens with the well-known waltz that Khachaturian struggled with in composing. Part two is Nocturne or night music, part three is Mazurka, a dance form and is followed by Romance. Lastly part five is the famous Gallop. The work is also used as a ballet.
This concert will be performed at SaddleBrooke on Saturday, April 11, at 7:30 p.m. For information about the concert and tickets go the www.sasomusic.org.