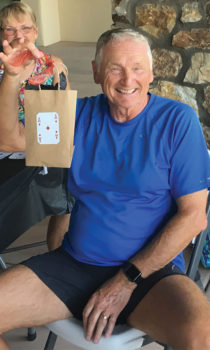 Susan Pharr
Filling all four courts Friday, June 8, the SBRTA held a Poker Tennis Social that was fun for all.
Players rotated courts and partners collecting two playing cards for a Win and one playing card for a loss until the final match was over and it was time to play Poker.
The group gathered first on Center Court and played their hands with Lutz Pape taking home the top prize for four aces! (Talk about luck!) Other prize winners for top hands included Ken Cook, Tove Pape and Susan Pharr. The evening ended with Happy Hour in the Bistro.
A big thanks goes out to Sue Cook and Carol Mihal for organizing the evening's event and we all look forward to a repeat, on a cooler evening, maybe in  November.