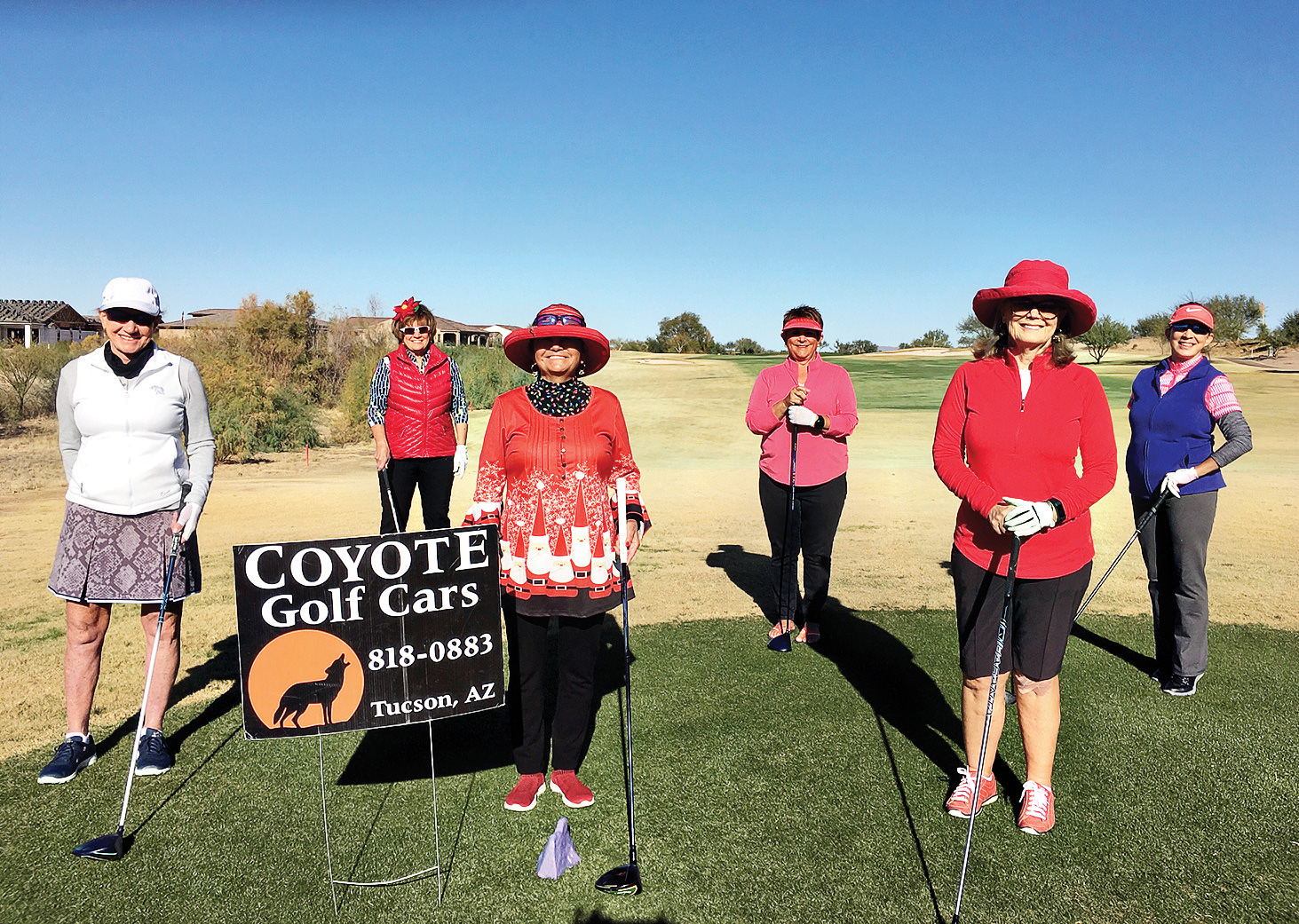 Carol Mihal
On the beautiful morning of Dec. 1, the ladies of the SaddleBrooke Ranch Women's Golf Association (SBRWGA) gathered to play in the "Holiday Festival Event—40 Balls". Many of the players arrived wearing their best festive golf attire to add to the holiday atmosphere, and candy canes were available to everyone at the driving range for a sweet treat!
The Holiday Festival Golf Event was a 4-person team game, consisting of an A, B, C, and D player in each team. The foursome had to choose 40 net balls to use over the 18 holes (20 on front nine and 20 on back nine). The net scores selected on each hole must be declared prior to teeing off on the next hole. Stapleford points were used for net scores: bogey is 1 point, par is 2 points, birdie is 3 points, eagle is 4 points.
It was a gorgeous day and a fun day of golf with many winners:
1st: Brenda Armenia, Susan Pharr, and Phyllis Pettijohn
2nd: Colleen Carey, Toni Graves, Mindy Hawkins, and Joanne Oliver
T 3rd: Barb Simms, Nancy Mommsen, Diane Taylor, and Maggie Merrick
T 3rd: Mary Snowden, Marge Rodgers, Leslie Grady, and Michele Madgar
T 3rd: Alex Anna, Terri Movius, Lenore Kolhoff, and Evie Thompson
Many thanks to Coyote Golf Cars, our generous sponsor for this event! Coyote Golf Cars, located at SaddleBrooke and in Catalina, can be reached at 520-818-0883 or at www.coyotegolfcars.com for all your golf cart needs.
Happy holidays to all!