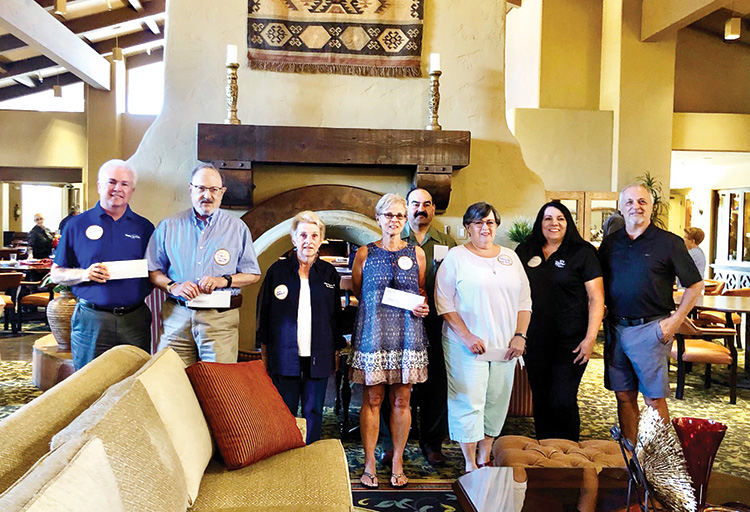 Barbara Barr
For the past 21 years, the Rotary Club of SaddleBrooke has been in the business of granting many wishes while they serve the children of our local and global community. Each year the club hosts the Fore For Kids Golf Tournament Fundraiser to help grant those wishes. The Fore For Kids Golf Tournament Fundraiser provides grants and scholarships benefitting so many children.
This year's charity golf tournament generated funding for a number of local and international children's programs. This included children's wishes for Make a Wish Foundation of Arizona, children's eye glasses provided by Volunteer Optometric Services for Humanity (VOSH), badly needed equipment for Little Hooves Big Hearts, after school tutoring for Oracle School's Connections in Learning, equipment for Teens Sew Cool, the robotics program of Catalina's Math Plus and character education through children's golf lessons for the First Tee of Tucson.
The golf tournament also provides scholarships for local area students. This not only includes college bound students, but also students on a vocational school route. The scholarships were presented to area students at their graduation program.
If making a difference in the lives of others is something of importance to you, come get to know us at the Rotary Club of SaddleBrooke. The Rotary Club of SaddleBrooke is not only an award-winning organization devoted to making a difference locally and globally, but it is also a club that enjoys coming together for life-long learning. We meet weekly for lunch with friends and an excellent program of learning. If this sounds like something of interest to you, come visit our friendly club and learn more about Rotary.
The Rotary Club of SaddleBrooke is open to anyone who is retired, living or working in SaddleBrooke Ranch, SaddleBrooke and all surrounding communities. Join us for lunch on any Thursday at 11:30 a.m. at the SaddleBrooke One Clubhouse and meet some of our members. For more information, contact Wendy Guyton at 520-404-5712 or [email protected]