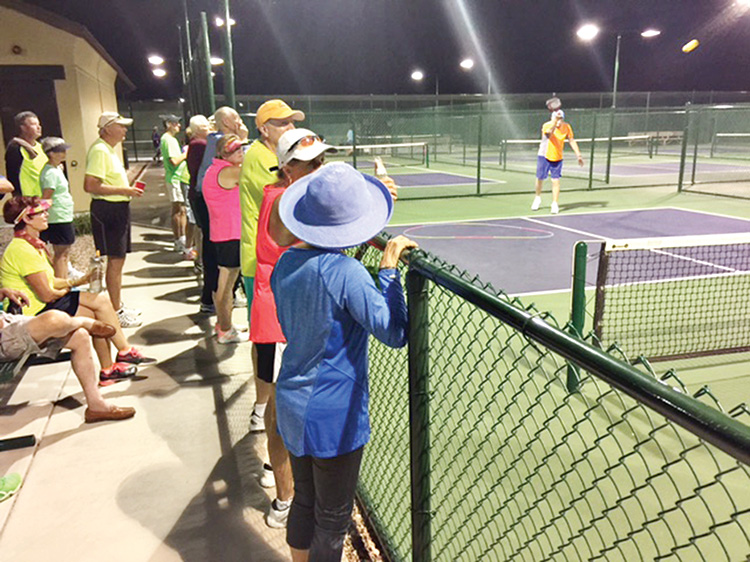 Tim McCauley, SBRPA Membership Chair
Now that I'm an aging baby boomer, I sometimes think back to my youthful perception of so-called "senior citizens." My naive world view of "senior living" envisioned early dinners, card playing, shuffleboard and, for the more robust, leisurely rounds of golf or tennis. The contemporary term "active senior adults" would have mystified me. In my defense, that was not just the stereotype, but it was what I actually witnessed in my grandparents' and friends' lives.
Of course, if that old stereotype held true, most of us wouldn't have moved to the Ranch in the first place. One thing for sure is that my old perception of senior life is shattered every time I walk out my door. My neighbors are out power-walking at first light, the pool is busy with lap swimmers, water walkers and aqua fitness participants. The gym is crowded with folks on cardio equipment, weight lifting and involved in exercise and yoga classes. The golf driving range is busy with resident golfers, the tee sheet is full and so are the tennis courts. The afternoons bring ping pong players and line dancers to the fitness center.
Busy, too, are the twenty-four pickleball courts. Mornings bring such a flurry of activity that most courts are occupied. Witnessing that activity is what most upends any thought that our residents are sedentary. Active adults indeed!
Our pickleball enthusiasts may not look like kids but they play with similar effort and energy. They run, they smack the ball ferociously, lob, dink and compete like youngsters. One can't help but be impressed by their overall athleticism, power, speed, balance and competitive spirit. Though athletic skill is certainly not a prerequisite to participate and enjoy, pickleball seems to tap into whatever athletic talent we possess; call it our "inner athlete."
Small wonder then that pickleball is our country's fastest growing sport because leading that boom are the "boomers" like us. That's why SaddleBrooke Ranch Pickleball Association is our largest club with 338 members strong and growing! SBRPBA offers opportunities not only to play the game, but learn the game, and then join in the ongoing social activities. Not sure what our association is about, or not sure what pickleball is all about? We offer beginner coaching sessions every Friday morning and every second and fourth Tuesday evenings at the Ramada.
Check our website, www.sbrpickleball.club, to learn how to get started, keep going and learn what's upcoming.
Cheers to our pickleball community; cheers to our SaddleBrooke Ranch community with its multitude of activities and clubs. We play, we engage, we socialize. The perfect prescription for staying young in body, heart and soul.
Celebrate!