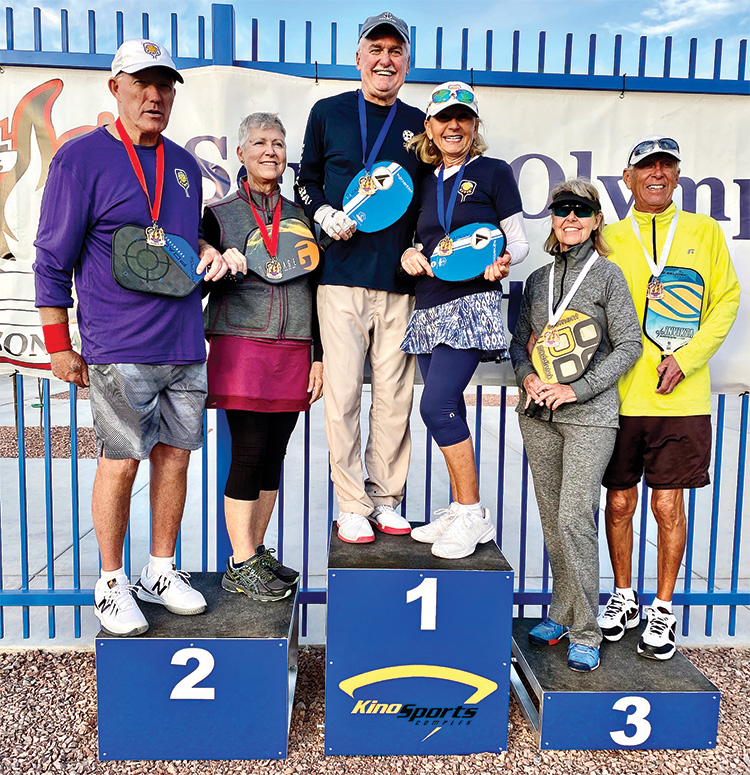 Alastair Stone
SaddleBrooke Ranch Pickleball Club sent 41 players down the road to participate in this tournament at the end of January.
And SBR came away with 20 medals—a fantastic achievement!
Our new president, Rick Heine, partnered by Angela Jerman, took home gold in the 3.5 70+ category, and Norbert Weisbeck and Deb Lawson, won silver in the same event.
Other gold medal winners were Cindy Sundquist and Gary Wilson; Kristi Miller and Teri Baer; Norbert Weisbeck and Brad Messner.
Silver was also won by Kristi Miller and Michael Healy; Brian Baker and Pat Hawkins.
Bronze medals were won by Rhonda Hayes and Beth Chamberlin; Sue Deskovich and Debbie McCauley; and Jim Dougherty and Wingman Reuter.
SBRPA also congratulates Steve Dumas, on achieving his USPA Tier 2 referee status during the tournament!