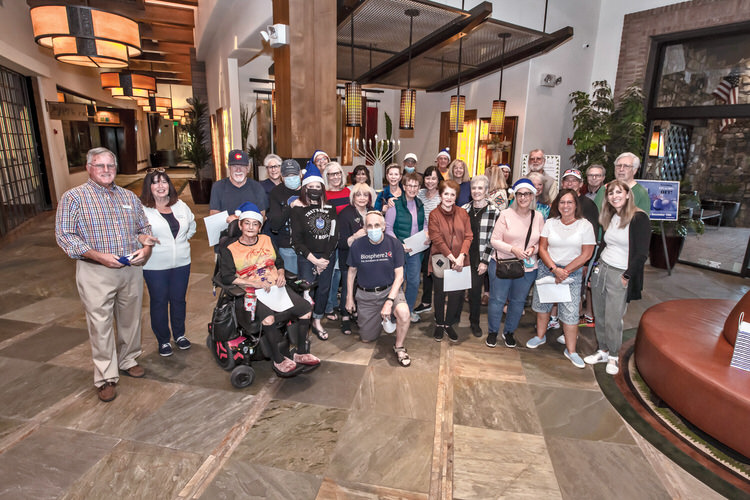 Kim Schweitzer
This Chanukah, Ranchers had several opportunities to celebrate close to home. For the 11th year in a row, our local Chabad held a menorah lighting in the Gaslight Theater Parking lot. It was a perfect night to be outdoors. There were goody boxes with latkes, applesauce, jelly donuts, light-up hair clips, dreidels, and other fun items. The stage featured a huge menorah, spinning dreidel, a video screen, and a special performance by a local acrobat. Rabbi Zimmerman reminded us of the Chanukah lights' overarching message: "Light over darkness, miracles over morass, and faith over fatalism." Words we can all appreciate, no matter what house of worship you attend.
A group of Ranchers gathered at The Bistro on the second night of Chanukah to light the menorah. Florence Messer and Barbara Heft welcomed the large group and together, we recited the traditional holiday blessings and songs. Sherry Weiss made sure we had plenty of gold chocolate pieces of "Chanukah gelt" (money), for everyone in attendance. Sharon Farber crafted blue Chanukah hats to further get us in the holiday mood.
Known as the Festival of Lights, Chanukah, a celebration of family and freedom, lasts for eight days. At what is the coldest, darkest time of the year for many people, we celebrate by bringing light and warmth into our homes, into our communities, and into the world around us. Chanukah commemorates a military victory in 165 B.C. of the Jewish Maccabees over the Syrian army. After the victory, the Maccabees rededicated their temple by lighting an 'eternal flame.' There was just enough oil to burn for one day, but miraculously the oil lasted for eight days, and that is why on each of the eight nights of Chanukah candles are lit on the menorah.
Latkes (potato pancakes) and sufganiyot (jelly doughnuts) or even churros—foods cooked in oil—are customarily eaten during Chanukah to commemorate the miracle of the oil lasting for eight days.
Thank you to Heather Stanford for creating the beautiful display of Chanukah decorations at The Hacienda Club.
The Shalom Club was formed in 2011. We have more than 75 members and continue to grow.
Many of us are new to Arizona; our goal is to recreate the tastes, smells, and happy memories of our past, make new friends, and spend quality time together.
For information, send your name and email address to Sherry Weiss at [email protected]
Our Mission
The Shalom Club is dedicated to the enrichment of Jewish life for SaddleBrooke Ranch residents.
Our goal is to create a warm and welcoming environment in our community that builds strong lifelong relationships, celebrates together, and supports each other in times of need.