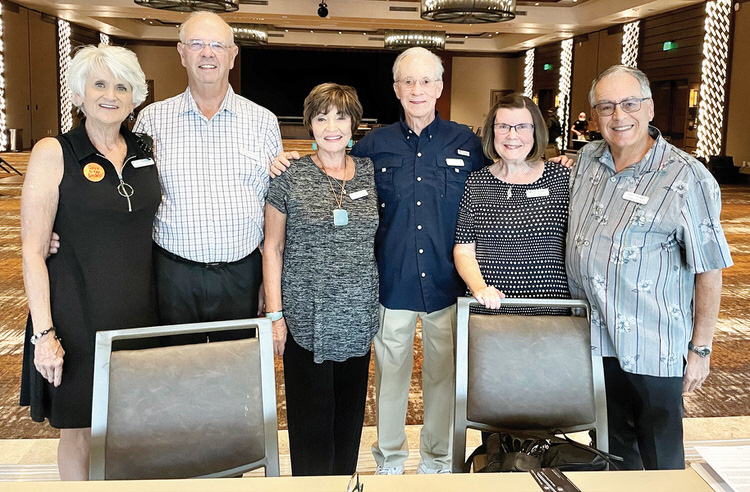 The SaddleBrooke Ranch Social Dance Club kicked off the holiday season with a fun fall ballroom dance. DJs Gus and Gina provided fabulous music from all genres—tango, cha-cha, rumba, swing, nightclub 2-step, waltz, and salsa, along with a line dance for all to enjoy. If you could name the original artist, prizes were given!
Tables were decorated with fall leaves and goodies to eat.
Thirty-eight dancers enjoyed the evening in the Sol Ballroom. The club welcomes dancers from all locations and clubs to attend. Let all your friends know, and "dance like nobody's watching."
The club's purpose is to provide the opportunity for SBR residents and guests to come together in a relaxed social setting to learn, practice, and enjoy social dancing. The emphasis is on fun, socialization, and helping each member learn the various dances. The club offers lessons, practices, and dances—all found on the website (www.sbrsbdc.club) along with a full calendar of events.
The club website is also a great way to advertise your business or talents. The club is looking for sponsors to advertise on the website. Contact Carol Osgood at 541-419-0843 if you are interested in becoming a sponsor.
A very big thank you to these three Saddlebrooke Ranch Residents who put this club together, our board members John Hess, John Green, and Mark Holden. Chairpersons are Dan Smejkal and Phyllis Pettijohn, and Carol Osgood is the ambassador.
Visit our website at www.sbrsbdc.club to view the calendar of dances, lessons, and practice dates. Come join the fun!