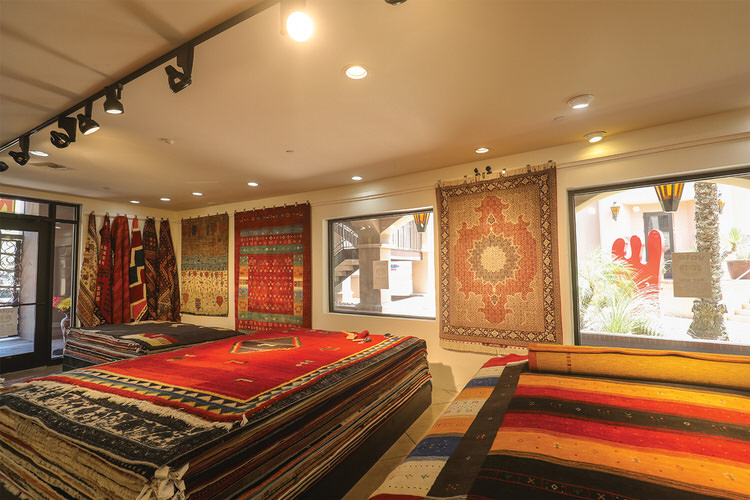 David Taylor
Thirty years doing anything makes for extremely competent expertise. Ask Amir Karimi. He knows handmade exotic rugs—how to purchase them, how to repair them, how to restore them, and how to hand-wash them so they continue to bring enjoyment to his clients for many years. He has instilled this same passion and pride of craftsmanship in his staff.
Karimi Rugs has been a Tucson institution in the rug business for over 30 years. The shop is located in Plaza Colonial at 2840 E. Skyline Dr., Suite 100. With a very large selection to choose from, Karimi Rugs will also bring samples to clients' homes so they can see how a piece will look with their décor, either as a floor rug or wall art. Visit the exquisite showroom and join Amir for a cup of Persian tea. Find something you like and Karimi Rugs will allow you a free in-home trial with no obligation. Customer satisfaction—that is what Amir Karimi takes pride in offering to each and every one of his clients.
If you have a rug that you need to have appraised, well, Karimi Rugs is the place to have that done. With a lifetime of experience in the rug business, be assured that Amir Karimi will be able to assess the accurate value of your piece. If you need it restored, Karimi Rugs does it by hand, the old-fashioned way, which is the best way to restore them, all done by experienced Karimi-trained craftsmen. Cleaning exotic rugs is no easy task either. The Karimi staff know this, and take pride in cleaning your rug the correct way to meticulously bring a rug back to its original luster.
There has never been a better time to obtain a quality rug for your SaddleBrooke Ranch home. The inventory at Karimi Rugs is extensive and magnificent. With patterns and colors that range from traditional to contemporary, you are sure to find a piece that will make your home's interior light up. Invest in the grandeur of your home. Let Amir Karimi and his staff show you how easy that can be.
Karimi Rugs is open Monday through Saturday from 10 a.m. to 6 p.m. Let a visit to Karimi Rugs enlighten your day and weave a passion for exquisite handwoven rugs in you. Learn more at www.KarimiTucson.com or by calling 520-319-8280.