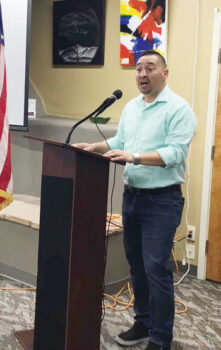 Edie Crall
The SaddleBrooke Democratic Club's Sept. 13 meeting featured various Democratic state candidates who told club members their goals and objectives if they are elected in November. In calling the meeting to order, club president Maureen Borland stressed how important it is for all to vote.
Candidates in attendance were:
Martin Quezada, a member of the Arizona State Senate since 2015, is running for Arizona State Treasurer. Previously a member of the State House of Representatives for two years and a lawyer in private practice, Martin highlighted his commitment to education, especially prioritizing financial literacy efforts to ensure all students succeed. He also believes in health care for all, affordable housing initiatives, and protecting our planet. He promises to bring ethics, professionalism, and transparency to the Treasurer's office. "I will be a State Treasurer who ensures our Arizona values are represented when managing, investing, and protecting our taxpayer dollars," he said.
Lauren Kuby, running for the Arizona Corporation Commission, is a two-term council member and former vice mayor of Tempe. She is a sustainability scientist at Arizona State University and a recognized climate action and clean energy advocate. Lauren is running as a team with Sandra Kennedy, who has served on the Arizona Corporation Commission since 2008 and was re-elected in 2018. Lauren believes a fair, transparent, impartial Corporation Commission keeps your utility bills in check, protects our waters and lands, and ensures that every Arizonan has affordable access to sustainable water and energy. "We need an equitable process at the Commission so that we do not leave populations behind," she said.
Mike Nickerson, a retired pastor and educator, is running for the State Senate in Legislative District (LD) 17. He believes education is the key for a prosperous future for Arizona. Mike, who is the past president of the SaddleBrooke Democratic Club, believes the priorities of the Senate should focus on funding for excellent public schools, providing access to quality health care, and developing a sound water plan for our future.
Dana Allmond, a retired U.S. Army Lieutenant Colonel and a 1994 West Point graduate, is running for the State House of Representatives in LD 17. She stands for voting rights, full funding for public education, and reproductive freedom for all. Dana is a lifelong public servant who puts family and Arizonans first.
Brian Radford rounds out the slate of Democratic candidates for LD 17. He is running for the second seat in the State House of Representatives in our district. As a retired corrections officer, case manager, and special education teacher, he is committed to full funding for public education. He also supports measures to lower prescription drug prices, improve access to health care, and address the challenge of water management. "I am committed to protecting voting rights as well as fully funded public education and special education programs," he said.