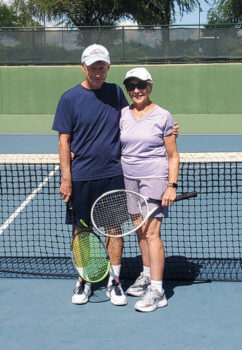 Deb McGiboney
Tom and Kathy Tossey began their relationship in 1980 on a blind tennis date (believe it or not) in La Jolla, Calif., followed by Mexican food and margaritas. They played tennis in San Diego and during their relocations to Madison, Wis., and Denver from 1982 through 1988. Tennis took a back seat in 1989 upon moving back to California (Huntington Beach) due to family, work, and injuries. However, their Mexican food and margarita celebrations continue through today!
Tom and Kathy moved from Huntington Beach to the Ranch in November 2016. Dean Alfrey encouraged them to try tennis again in 2018. They joined the SaddleBrooke Ranch Tennis Association (SBRTA) in July 2018 and took some SBRTA clinics. They have become avid tennis players.
Kathy now plays tennis several times a week and is currently rated 2.5. Tom plays tennis three times a week and is rated 3.0.
What they love most about tennis is the wonderful friends they have met and the enjoyable exercise it provides. They will see you on the courts and meet you afterwards for margaritas!