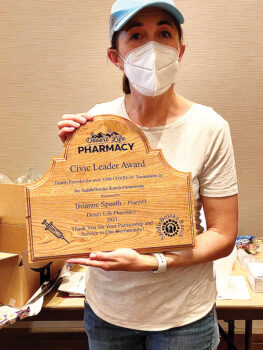 Linda Shannon-Hills
After the last COVID-19 vaccination drive at SaddleBrooke Ranch, Brianne Spaeth, pharmacist at Desert Life Pharmacy, was awarded with not only our sincere gratitude, but also remembrances to hang on the wall in the pharmacy.
At the request of the SaddleBrooke Ranch COVID-19 Task Force, the SaddleBrooke Ranch Woodworkers Club made a beautiful plaque. This gift, from the SaddleBrooke Ranch community, proclaimed Brianne the recipient of the Civic Leader Award, as a health provider who helped administer over 3,300 vaccinations to our residents. Accolades go to Jeff Hansen and John Gordon, from the Woodworkers Club, for their design, precision, and many hours spent making this beautiful memento of appreciation. We send our heartfelt thanks to them for this donation of time and materials.
SaddleBrooke Ranch Piecemakers Quilting Club donated a beautiful cactus designed quilt to present to Brianne. This quilt made by Pat Carr, a club member, represents long hours of precision sewing and artistry.
When you visit the pharmacy, you will see the plaque next to the front counter and the quilt in one of the vaccination rooms.
This writer would also like to thank the SaddleBrooke Ranch Piecemakers for presenting to me, Linda Shannon-Hills, a lovely keepsake made by quilter Deb Larson. Deb is a member of the SaddleBrooke Ranch Piecemakers Club.
We encourage you to visit Desert Life Pharmacy, located in the SaddleBrooke community business area. Under the mask, you will find the smiling face of the pharmacist, Brianne Spaeth.