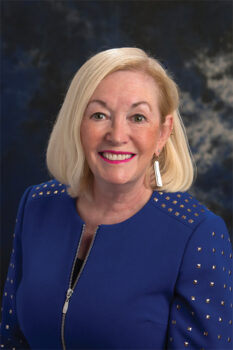 Tim Morsani
The Community Circle Players is bringing its latest dinner-theater production, The Outsider, to SaddleBrooke Ranch for a one-night performance on Wednesday, March 18. The political satire by Paul Slade Smith, presented by arrangement with Playscripts, Inc., deals with the trials and tribulations of an unknown career government official reluctantly thrust into the political limelight following a scandal that topples the state's popular and charismatic governor. SaddleBrooke Ranch resident Monica Gustafson, is among the seven-player cast.
The festive evening of food, fun, and laughter begins with a no host bar at 5 p.m. with the production – staged in the middle of the audience – at approximately 5:50 p.m. Airline chicken (so-called because it includes a wing) highlights the menu. Ticket price is $49 per person, inclusive of tax and gratuity. Tickets for the performance will go on sale at 9 a.m. on Wednesday, Feb. 5 at the ballroom ticket counter.
The Community Circle Players troupe has had sold-out performances for each of its dinner shows at SaddleBrooke One and SaddleBrooke TWO since 2017, most recently, Cookin With Gus, this past November.
This season's show is a timely and hilarious political satire revolving around Ned Newley, a detail-oriented public servant who is totally uncomfortable with and completely terrified by public speaking, campaigning, interviews, television appearances, and everything else that makes up modern-day politics and government. He is assisted by a ne'er-do-well one-man staff, an overachieving pollster, a has-been political guru and a ditzy temporary office worker who quickly rises from total incompetence to political super-stardom.
According to director Tim Morsani, the show "may be the only place on Earth where you can watch non-partisan political comedy. Will Rogers, who spent most of his career lampooning politicians, could have written this play. There also are hints of Saturday Night Live."
So, put a note on your calendar to buy some tickets starting Feb. 5. "If you haven't tried Community Circle Players' dinner theater, you're missing a great chance to dine and laugh with your friends," said Fred Lowy, the show's producer.