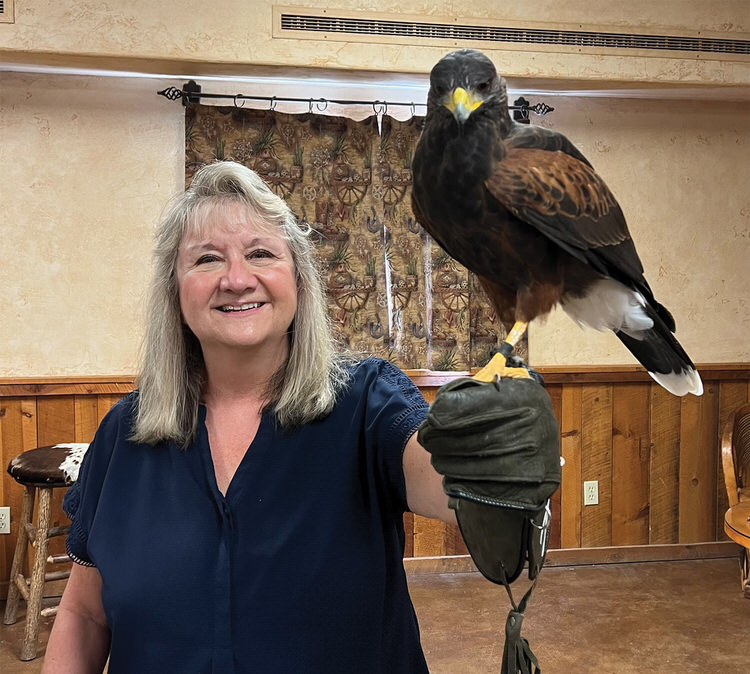 Dale Farland
Have you ever wondered what it would be like to learn more about falconry and possibly experience a Harris's hawk soar onto your gloved hand? Did you know that a red nape falcon will humanely kill their prey if the velocity of striking them does not kill them? Or that Harris's hawks often hunt in family packs?
Well, SaddleBrooke Ranch resident Dale Farland had this opportunity recently at Sky Island Falconry in their indoor summer facilities. "I was so impressed with the information presented and the opportunity to personally interact with and hold an eastern screech owl, a red nape falcon, and a Harris's hawk, I had to share this information with other SBR residents," Dale says. "To watch the majesty of a Harris's hawk as it flies onto your gloved hand is an adventure I will never forget."
Sky Island Falconry (skyislandfalconry.org) is licensed with the U.S. Fish and Wildlife Service and is one of only a dozen licensed falconry schools in the nation and is one of only a few actually located in Arizona. Brian Wood; his wife, Carissa Wood; Nate Danforth; and Amber Danforth are licensed falconers and started Sky Island in 2020 due to their passion for these and other birds of prey.
They offer several different experiences; however, their Hawk Walk (October through March), is their flagship experience. After a short educational discussion about falconry history, participants then don leather gloves and learn how to call a trained falconry raptor to their hand. Then, the falconer acts as a guide as an avian raptor freely flies through the Sonoran Desert on a hunt for prey. You can observe first-hand the various predatory tactics of the avian raptor as the falconer works with their birds to produce a successful hunt.
"After thoroughly enjoying the Meet the Raptor—Summer Experience, I am looking forward to participating in the Hawk Walk or one of the other programs offered," Dale says. "Sky Island Falconry is such a unique learning opportunity close to SaddleBrooke Ranch."