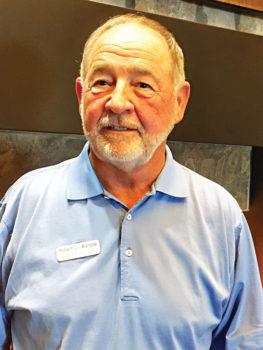 Linda Shannon-Hills
Did you ever wonder why the wine you bought was not as good as you were told? Maybe you loved that $10 bottle better than the $25 bottle you purchased the week before. Back by popular demand spend an hour with Robert L. Wample, PhD during the Thursday Talk on December 14 and learn about how wine grapes are grown, where and why they are grown there and how science and technology are improving the process. Bob's talk is titled: Wine—The Good, The Bad and The Awful…and a little bit about how it happens.
During this discussion we will consider the concept of Terrior and how you might want to think about it. We will also briefly consider the wine making process, wine storage and talk a little about "Why you like the wines you like"TM (Tim Hanni, MW). If time allows we will discuss some of the characteristics of wine faults, how to detect them and what you can try to do to save that $30 bottle of wine you bought for that special occasion. Join us on Thursday, December 14, at 4:00 p.m. in La Mesa Room for Bob's very interesting talk on wine.
Dr. Robert Wample retired from California State University, Fresno in 2009 after nearly 10 years as Director of the Viticulture and Enology Research Center and Chair of the Department of Viticulture and Enology. He served as a plant physiologist with Soil and Topography Information, Inc (STI) from September 2009 until December 2011. In January 2012 he established Edgeknoll Consulting, LLC and served as a consultant and part owner to C3 Crop LLC, a new company he helped establish to bring new technology to the agricultural industry until the company was purchased by Trimble. He spent over 20 years in teaching and research positions at Washington State University and received the Industry Service Award from the Washington Association of Wine Grape Growers in 1999. He served as the president of the American Society of Enology and Viticulture from 2005-2006. Along with his students and colleagues he has produced over 100 papers and been an invited speaker to conferences throughout the world. His interests include water and temperature stress physiology and the application of new technologies to improve farming practices.