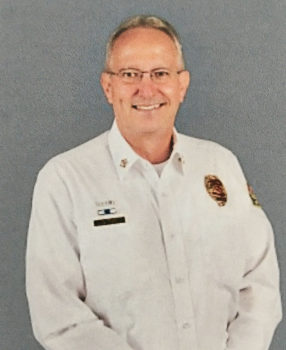 Linda Shannon-Hills
Do you have a medical emergency? Call Golder Ranch for transportation and aid. Have a snake in your backyard? Call Golder Ranch for safe removal. Do you need your smoke alarm batteries replaced? Call Golder Ranch to climb the ladder and install fresh batteries.
SaddleBrooke Ranch Thursday Talks will welcome Chief Randy Karrer of the Golder Ranch Fire Department to SaddleBrooke Ranch on Thursday, March 7 at 4:00 p.m. in the Sol Ballroom located in the Ranch House. Chief Randy Karrer will give us an update on the fire district, discuss services that the fire district offers, discuss what you should do before emergency help arrives and leave ample time for individual questions from the residents and discuss how residents can interact with Golder Ranch Fire. Chief will bring a few of his staff to answer questions from the community.
Our friends at Golder Ranch are a major part of the SaddleBrooke Ranch community. Several of the GRFD staff will be on hand to sell lock boxes for your home as well as talk about the Golder Ranch Fire District EMS Membership, a way to protect you and your loved ones from the unexpected cost of emergency ambulance transport. Visit http://grmhs.org/ for more information.
Learn more about the life-saving services of Golder Ranch Fire Department on Thursday, March 7 at 4:00 p.m. in the Sol Ballroom in the Ranch House.