The Red, White, and Blue Crew from 16B
Pete Watson
Sporting the "rockets' red glare" and "bombs bursting in air," residents of 16B celebrated Independence Day with a bang-up holiday event. Residents met in the La Hacienda Club on Monday, July 4, to give our nation a grand ole birthday party.
The main event was a patriotic costume contest, and residents adorned themselves with festive headgear, dresses, shirts, and shawls. In the face of fierce competition, Sherann Ellsworth was the landslide winner in her head-to-toe American flag dress and took her bows to thunderous applause.
After the grand prize was presented to the winner, the party resumed. But, as usual with our Unit, the laughter, fellowship, and patriotism gave way to total chaos. With all the hearing aids being worn, one innocent comment was misunderstood, chairs were flung back, and the sides were taken. Tables were flipped over into barricades, battle lines were drawn, and what ensued was a reenactment of the barroom brawl from Blazing Saddles. Hidden stashes of bottle rockets, roman candles, and dancing butterflies all came out and were put to good use. Reinforcements were called, and when the munitions were exhausted, a few minor injuries, burnt draperies, and a hole in the ceiling were the only signs that we were even there. In the end, the survivors shook hands, congratulated each other on the skirmish, and shouted, "Wait 'til next year!" as we limped off into the night.
Disclaimer: No livestock, property, or SaddleBrooke Ranch residents were harmed during the 16B July 4th event.
Unit 16C Party
What do you do if it's 102 in the shade and it's your turn to host the monthly Unit 16C party? For Amanda Blood and Cole Dougherty the answer is to have a pool party. Everyone brought cold appetizers, lots of cold beer and wine, and floaties. The water was perfect, the company wonderful, and most went home with wrinkly skin. Cole made his famous key lime pie, which we all agreed paired well with Chardonnay.
Unit 17 Trivia Competition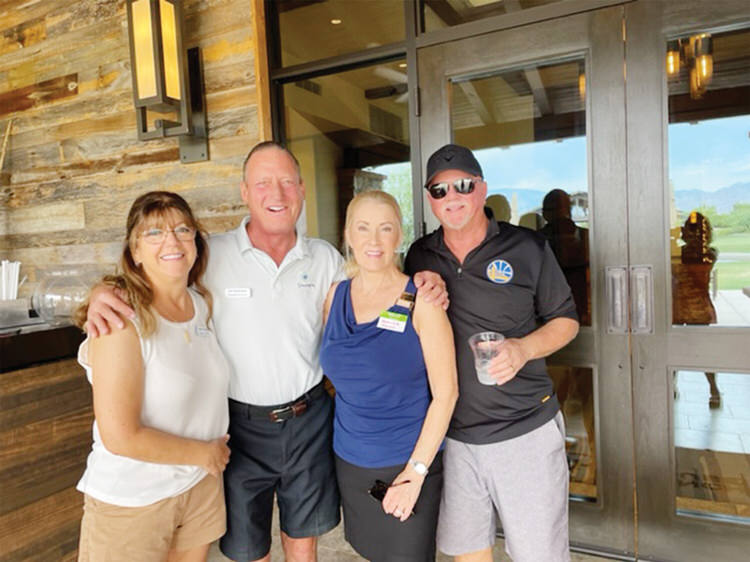 More questions than answers …
Friends and neighbors in Unit 17 gathered on June 17 at the Ranch House Patio to play trivia. Pat Albu developed the questions and emceed the game. She challenged the teams with various categories. The winning team took home a sweet prize, and everyone had a great time. Shout-out to Crystal and her assistant, who were great hosts at the bar.