We All Scream for Ice Cream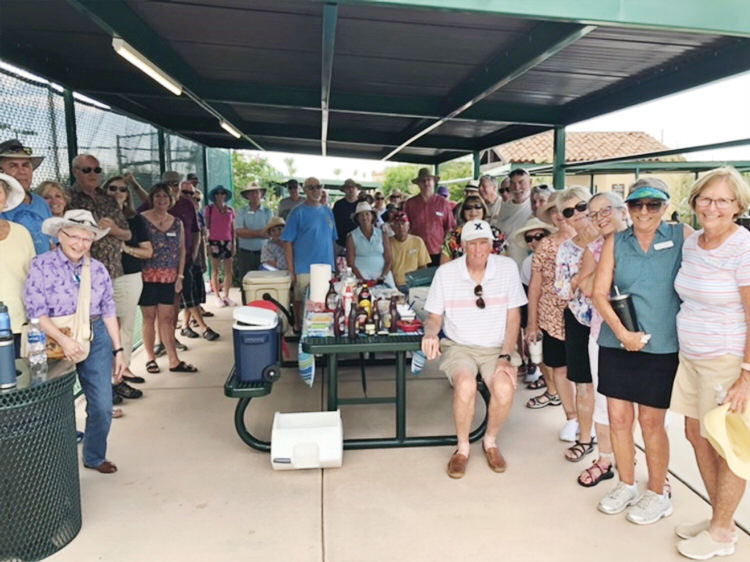 Joy Hellard
Baskin-Robbins and their 31 flavors, take a back seat to the ice cream makers in 16B. On Sept. 19, the residents of 16B held an afternoon ice cream social and bocce ball event. The September sun beamed down in typical Arizona splendor making the ice-cold dessert deliciously refreshing. Residents brought every topping imaginable for participants to create their ideal sundaes. Even the most discerning palates were impressed with the homemade treats.
Laurie McCoy made a spectacular vanilla while Anna Miller added chocolate chips to her French vanilla. Sue and Tom Eggleston's "Udderly Chocolate" topped with Kahlua liquor vanished so quickly that even the Arizona heat did not have time to melt this frozen confection. For the residents who were lactose intolerant, Nini Frank brought macadamia milk nut and also raspberry sorbet. Root beer floats were a favorite of the residents along with the heaping plates of homemade cookies. Phyllis Bonvouloir brought her Texas sheet cake brownies covered with pecans and fudgy chocolate while Greg and Julie Halvacs arrived with a taste of autumn, bringing their frosted pumpkin cookies. Judy Adams' chocolate chip cookies disappeared before residents could build their first towering and scrumptious ice cream delight. Bob Frank's oatmeal raisin cookies paired wonderfully with the heaping bowls of ice cream.
Staggering from an overload of ice cream helpings and under the influence of a sugar high, 16B residents waddled over to the courts for a rousing bocce ball competition. Shouts and laughter rang around the courts as teams displayed their skill and enthusiasm in the hot September sun. All four courts hummed with activity as teams issued challenges to their opposition. Frequent verbal sparring bounced around the courts as teams tied in a dead heat demanded playoff games. As the scorching Arizona sun set, 16B's first annual ice cream and bocce ball social was a wonderful success having brought smiles and laughter to many residents who participated.
Fall Fun in Unit 9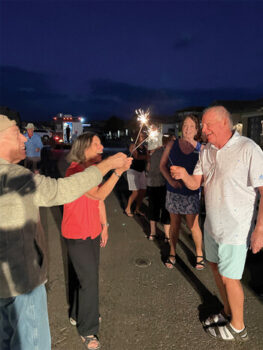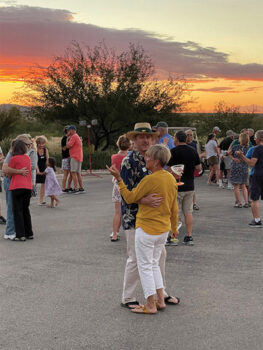 Erin Newman
On Oct. 4, Unit 9A and B neighbors gathered for an evening of great food, music, dancing, and the opportunity to meet new neighbors and catch up with old ones.
The weather threatened rain, but it held off and turned out to be a perfect fall night. Food was provided by Fork and Fire. Guests enjoyed a variety of their famous barbecue items. Kevin, from KT Klassics, sang classic rock songs so all could sing along and dance the night away. Raffle drawings during the evening proved to be even more fun, with donated prizes by a few Unit 9 residents. The sparklers came out at the end of the evening with the moon rising and the clouds parting. A fun time was had by all. Unit 9 neighbors are looking forward to making this an annual event.