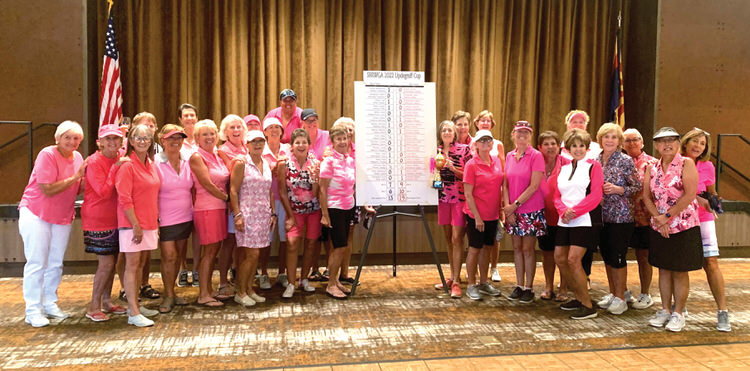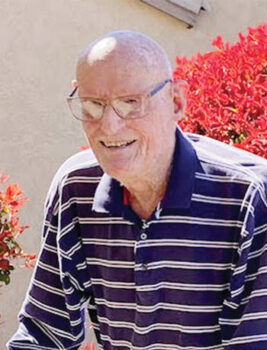 Jeanne Jensen
It's that time of year when the SaddleBrooke Ranch Women's Golf Association (SBRWGA) meet for their two-day fall cup.
This year we again gathered as two teams matched up opposite each other in the newly named SBRWGA Updegraff Cup on Monday, Oct. 10 and Tuesday, Oct. 11. Sponsored by Coyote Golf Carts, there was great weather, a fun reveal party, and an awards luncheon, along with lots of cheers and songs. In the end, the pink team came away as winners for 2022 led by captain and co-captain Trish Kelly and Mary Snowden.
Ed Updegraff, M.D., has perhaps become the first legend of SaddleBrooke Ranch. To us, Ed is the friendly gentleman living near the 10th green. He's always ready to hand out a greeting and maybe even a putting tip. His generosity and support of all things golf prompted the SBRWGA to make Dr. Updegraff the namesake of our two-day fall tournament.
Most of us didn't know that this remarkable man lived his golf life to the fullest. Playing in the 1962 Masters golf tournament as an amateur, he shared a practice green with Arnold Palmer, Sam Snead, Ben Hogan, Jack Nicklaus, and so many others. He went on to play the Masters several times as an amateur. As a physician, he was able to balance his busy golf life with a medical career and became known in Tucson as "Dr. Ed." In 1999, Dr. Updegraff earned the Bob Jones Award, the award that recognizes those individuals who represent the true spirit of golf. It is the highest honor bestowed by the USGA.
A legend indeed. And one that SBRWGA is proud to assign to their fall cup. Thanks, Dr. Ed!