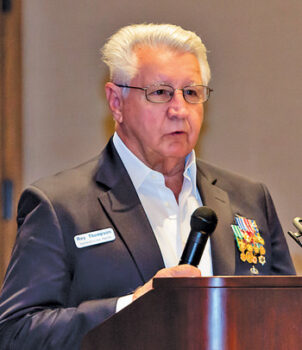 John Tedeschi
Veterans Day at the SBR has been a special day to celebrate our veterans for the past three years, and I am happy to report that the tradition continued in fine style this past Veterans Day. The SBR Veterans Club, Ranch House, and HOA hosted the pancake breakfast in the Ranch House Sol Ballroom.
The event was emceed by Roy Thompson, chair of the SBR Veterans Club and much-decorated Vietnam veteran. He paid tribute to SBR veterans and those who gave the ultimate sacrifice to keep America safe and free. Service flags representing the Army, Navy, Marines, Air Force, and Coast Guard were displayed. A prayer for the event was given by Chaplin Ron Watts. Patriotic music that was played throughout the breakfast was provided by Rob Rizk.
The "Missing Man Table" symbolizes those men and women who gave their lives for our country. The tribute, a mainstay for each of the armed services celebrations, was recited by Rick Carston.
Kelly Cardwell and Tyler Rose of the Ranch House and the SBR HOA provided the Sol Ballroom table setup and food, which consisted of coffee, juice, pancakes, sausage, and bacon. The food was excellent and was much appreciated by the more than 150 attendees. The SBR Veterans Club would like to thank Mr. Robson and those in his company for their continued dedication and support of the SBR Veterans Club.
The SBR Veterans Club was re-formed in January 2020. The active club members feel that the great turnout for this pancake breakfast will entice more veterans within the SaddleBrooke Ranch to join. The club's charter is to foster relationships among our SBR resident veterans and their families and to honor military traditions and customs by promoting awareness and interest in veterans' affairs.
SBR veterans are invited to attend monthly club meetings on the second Monday of each month at 11 a.m. in the Escondido room at the Ranch House. SBR veterans interested in joining the club may do so at any monthly meeting.