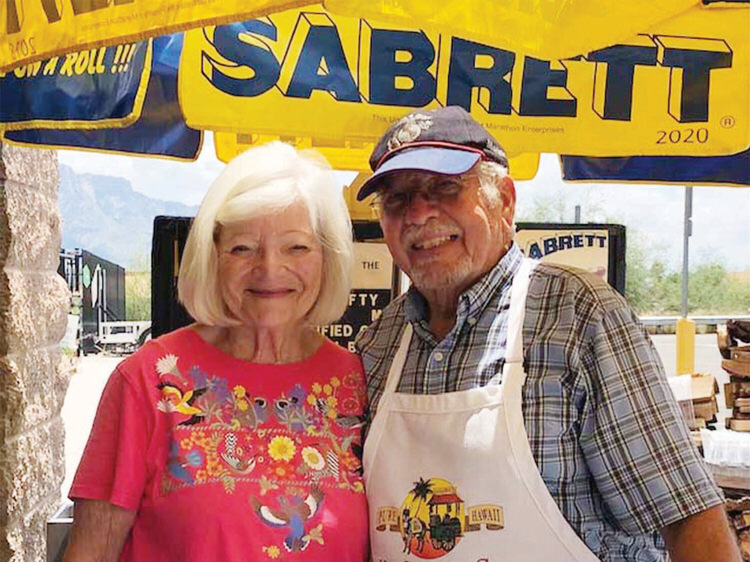 Toni Graves
John and Nancy Hardy do not play pickleball or spend time woodworking. John Hardy has a unique hobby/business. Every Friday and Saturday morning from 9 a.m. to 2 p.m., John and his wife, Nancy, and wonderful four-legged dog, Princess, can be found in Catalina in front of the Tractor Supply Co., 15884 N. Oracle Rd., selling hot dogs! They offer very gourmet hot dogs with virtually any topping you prefer from John's custom-built stand.
John quickly grew tired of traditional retirement some 28 years ago when he left the insurance industry. He soon devised a business plan that would keep him talking to people from all over the world, while making them happy with the best hot dogs on the planet. You've got to try one of his "classic" dogs with chili and cheese, Tony Packo's Toledo original, Chicago style, bratwurst with sauerkraut, or Italian sausage with grilled onions.
John and Nancy have sold dogs from their custom stand, the same one you'll see in Catalina, in Hawaii, Ohio, Michigan, and Arizona. This career has spanned 26 years, so far. The dogs are shipped in from the East coast, buns are gourmet and local. Stop in next week, or any week; John can tell you all about his journeys, his dogs, and his favorite customers. Well, you never know where the conversation will take you. Enjoy!