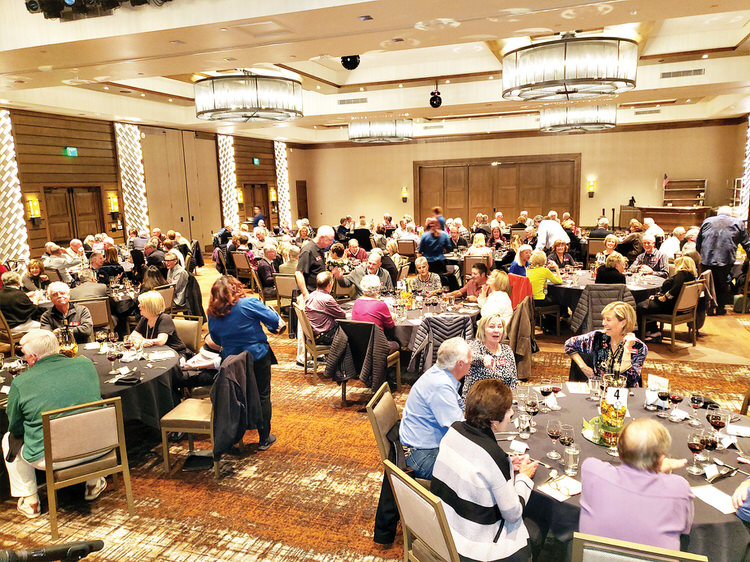 Over 140 members gathered in the Sol Ballroom on Tuesday, Feb. 1, to enjoy a five-course Italian dinner paired with some very special Italian wines. The meal included:
* Appetizer: Antinori Guado al Tasso Vermentino, shrimp gazpacho
* Course I: Antinori Chianti Classico, Pecorino flan with San Marzano tomato sauce
* Course II: Marchesi di Barolo Nebbiolo, seared sea scallop piccata on a crispy potato
* Course III: Rigatta Amarone, handmade cannelloni with spinach and ricotta Served with red wine braised short rib
* Course IV: Batasolo Bosca Rei Moscato d'Asti and Limoncello, handmade crespelle filled with limoncello curd and topped with pistachio crumble
Cyndy Pylkka, culinary chair, coordinated the food menu with the expertise of the Oracle Patio Cafe. Wine advisors Steve Chapman, Chuck Harder, and Kurt Warning did an excellent job of selecting the complimentary wines.
Attendees had the opportunity to enter a drawing to win prizes: restaurant gift certificates and gift baskets valued at $100 each! Some of the winners included Steve Hanns, Melanie Sedam, and Bob Shelby. Thanks to our wine distributors, Chris and Jessica of RNDC, bottles of wine were given away to those who answered trivia questions!
Save the date for our next wine tasting on Tuesday, March 15. For information about membership in the Wine Club of SaddleBrooke Ranch, contact Debbie Chapman, membership chair, at [email protected].