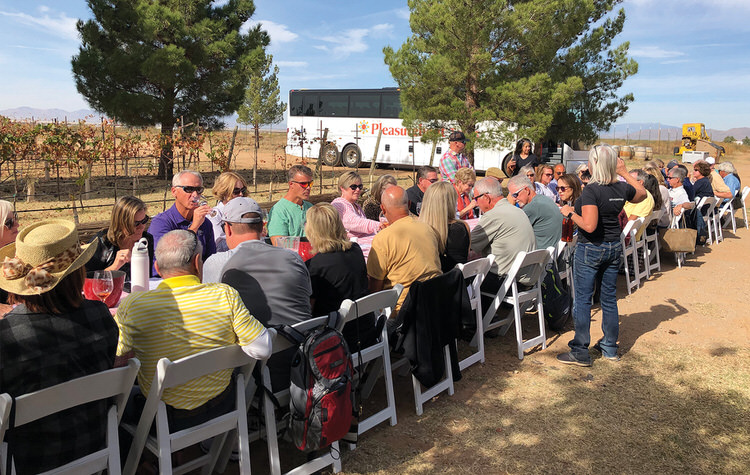 Lorraine Smith
On Saturday, Nov. 20, 112 members of the Wine Club of SBR (WCSBR) boarded buses and headed out to southern Arizona wineries. Birds and Barrels Vineyards and Pillsbury Wine Company were the destinations, located in the heart of the Willcox Wine Country.
Pillsbury did an amazing job of introducing the club to their winery, wine making practices, and their varietals. Birds and Barrels had a beautiful venue for large tasting groups where club members enjoyed a boxed lunch prepared by the Oracle Patio Cafe and tasted five varieties of wine.
Wanda Bailey, wine education coordinator, did a fantastic job organizing the trip and leading bus No. 1. Paul Thomsen, wine education coordinator, led bus No. 2. Their efforts are greatly appreciated.
A special thank you to Cyndy Pykka, culinary chairperson, who coordinated the lunch with the Oracle Patio Cafe.
Stay tuned for more events in '22. A wine dinner is being planned for Feb. 1, along with a wine tasting in the first quarter of the year.
For information about membership in the WCSBR, contact Debbie Chapman, membership chair, at [email protected]