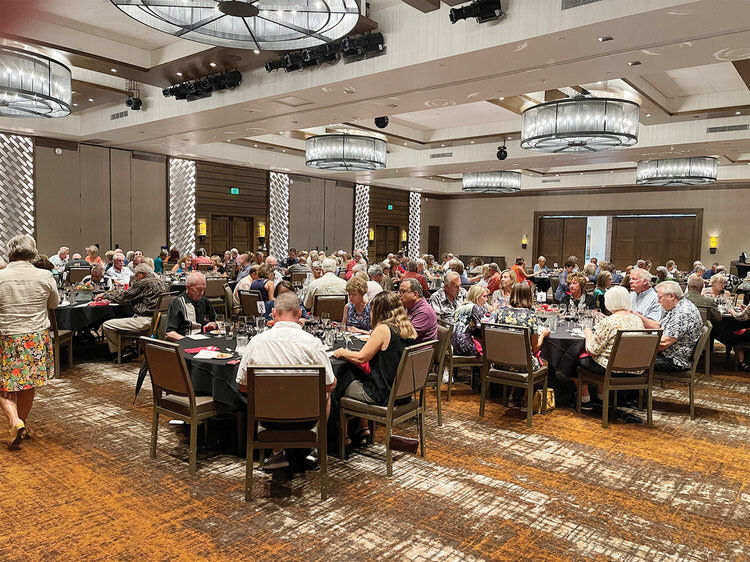 One hundred forty-one members of the Wine Club of SaddleBrooke Ranch (WCSBR) were treated to a very special dinner and wine tasting in the Sol Ballroom on Tuesday, June 21. The meal included:
Appetizer
* Nine Hats Pinot Gris, Columbia Valley
* Apple, watermelon, and herb summer roll with cherry spice smear
Antipasto
* Saggi Red Wine, Columbia Valley
* Marinated mushrooms, olives, roasted peppers, artichoke hearts with prosciutto and cheese
* Marinated mushrooms, olives, roasted peppers, artichoke hearts (vegan option).
* Served on an engraved carving board, which everyone took home.
Entrée
* Feather Cabernet Sauvignon, Columbia Valley
* Grilled red wine and honey glazed beef tenderloin with smashed potatoes and asparagus
* Mushroom bourguignon with polenta and asparagus (vegan option)
Dessert
* Poet's Leap Riesling, Columbia Valley
* Apple strudel with cream anglaise
* Poached apples in cherry-infused wine and dairy-free whipped topping (GF/vegan option)
Cyndy Pylkka and Dave Muck coordinated the food menu with the expertise of the Ranch House's very own Executive Chef Jeremy Imes. Wine advisors Steve Chapman, Kurt Warning, and Chuck Harder did an excellent job of selecting the complimentary wines.
Attendees had the opportunity to enter a drawing to win prizes: $100 gift certificates for The Keg, Bottega Michelangelo, Feast, and Vivace were distributed to the lucky winners. Six bottles of wine were also given away. The lucky winners included: Denise Joyce, Chuck Thomas, Tom Rodolfo, Terri Crawford, Mary Leben, Cheryl Nasalik, Edie Hugo, Bill Sanders, Melanie Sedam, and Ed Watson.
Future events include a movie night in August and a bus tour to Sonoita in September. Both events are on the third Tuesday of the month. For information about membership in WCSBR, contact Debbie Chapman, membership chair, at [email protected].