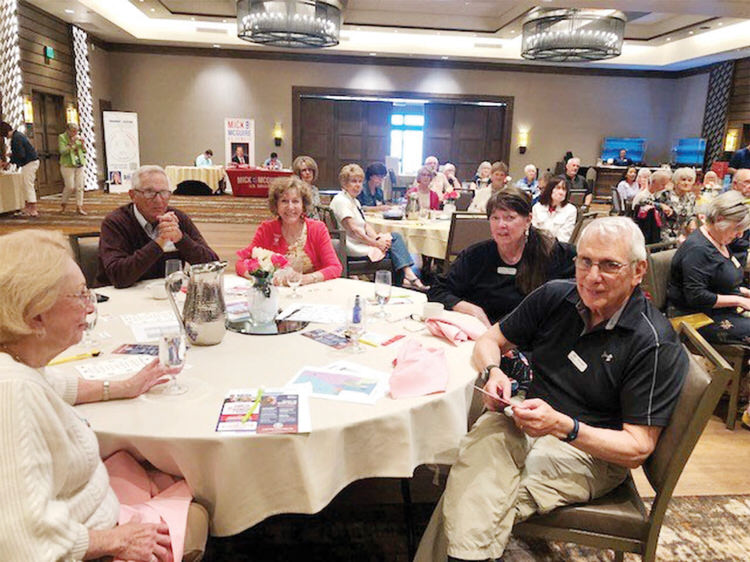 Judy Smith
The SaddleBrooke Ranch Republican Women of Action (SBR WOA) celebrated the emergence of spring in the desert while enjoying lunch and gaining information about the upcoming primary election on Aug. 2. Carolee Bailey, president of SBR WOA, hosted the event in the Sol Ballroom on March 25.
Major General Ret. Mick McGuire, former adjutant general of the Arizona National Guard, is currently running for U.S. Senate. He is also chairman of the board for the National Guard Association of the U.S., representing 45,000 National Guard officers. He most recently coordinated the largest mobilization of the Arizona Guard to combat COVID-19, civil unrest, and the crisis at the border. General McGuire spoke of current crises affecting our nation, both foreign and domestic. He emphasized the value of strategy, perseverance, and strength—qualities that have always served our nation well.
Shawna Bolick, Arizona Representative for the 20th Legislative District since 2018, spoke as well. She is running for Arizona Secretary of State. She informed the group about her goal to secure elections in Arizona by depoliticizing the office of Secretary of State. She also spoke of her desire to serve Arizona businesses. As a legislator, she has been active in working for election integrity.
SBR WOA also held a general meeting on March 28 in the La Hacienda Club building. After a general meeting, the club hosted several candidates and gave them an opportunity to speak. Justine Wadsack, running for Legislative District (LD) 17 Senate, spoke about her desire to ensure parents have the right to make decisions for their children, as well as defending freedom.
Rachel Jones is running for Arizona Representative in LD 17. She wants to fight for strengthening families and giving more power to the people. She wants to uphold the values that have made Arizona great.
Cory McGarr is also running for State Representative in our district. He advocated for election integrity and medical freedom. The three candidates are running as a team: The Arizona Freedom Team.
Another speaker, Abe Hamadeh, former prosecutor for Maricopa County, who is running for Arizona attorney general, spoke to the group. Hamadeh spoke of the need for the attorney general's office to enforce the rule of law. He plans to restore confidence in our elections and supports law enforcement and maintaining border security, if elected.
The SBR Republican Women of Action desires to inform, educate, and encourage like-minded people to become involved in upholding our freedoms. The club meets every fourth Monday of the month in the La Hacienda building.