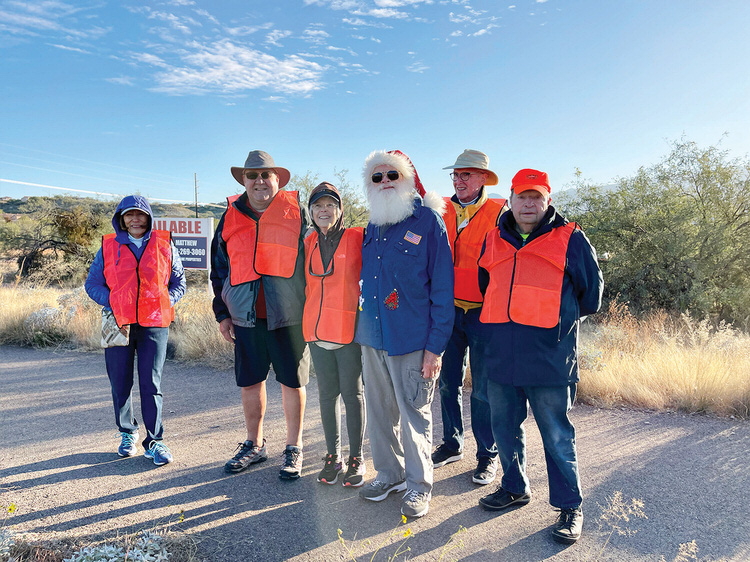 Maggie de Block
Fighting hunger, increasing literacy, helping homeless veterans, and caring for our community. SaddleBrooke Sunrise Rotary members were busy volunteering in 2021 with our service projects that ranged from the Mammoth Food Bank to increasing literacy in the Southern Copper Corridor.
Our work began on Jan. 6 at the Mammoth Food Bank, where we unloaded and distributed goods from the government truck twice a month. Once a month, we also load the Mammoth Food Bank Van at Bashas' and distribute the food at the Mammoth Food Bank. On occasion, we do use our own vehicles to transport food to Mammoth. We have become a vital operation's piece for the Mammoth Food Bank, and were recognized as a Community Partner.
Another task started in January was to fill and maintain three Little Free Libraries in Mammoth, San Manuel, and Hayden. In September, a fourth Little Free Library was dedicated in Oracle. Once a month we visit the Pima Library to select books for our Little Free Libraries. We spend time sorting, cleaning, and categorizing these newly acquired books to fill our libraries.
In June, we started a new service project, 51 Homes Vets, by helping the coordinator for the City of Tucson to furnish one-bedroom apartments for homeless veterans in Tucson. Our tasks consisted of repairing small furniture, organizing the warehouse, and picking up donations. We wrote a matching grant to furnish 11 mattresses and frames for the 51 Homes Vets apartments.
September was our fundraiser, the "I Don't Want It Sale." Our members brought their collections of goods that we sold, with the profits going to the 51 Homes Vets project.
Throughout the year we perform various tasks during the Golden Goose Thrift Shop's third Friday of the month "Moon Light Madness" sale.
To end the year, we volunteered and managed aid station No. 13 for the Tucson Marathon. At the start of the race, it was very cold, but by midmorning it was pleasant. We even had a visit from Santa.
These activities may appear to be a lot of work, but fun is integral to our volunteering. After completing our work, we explore new eating places to unwind and share our lives. We also have monthly socials just to enjoy each others' company. If these activities appeal to you, give Maggie de Block a call at 520-818-7835. The Rotary motto is "Service Above Self." We add to that motto, "Let's make it fun!" From all of us in SaddleBrooke Sunrise Rotary Club, Happy New Year.