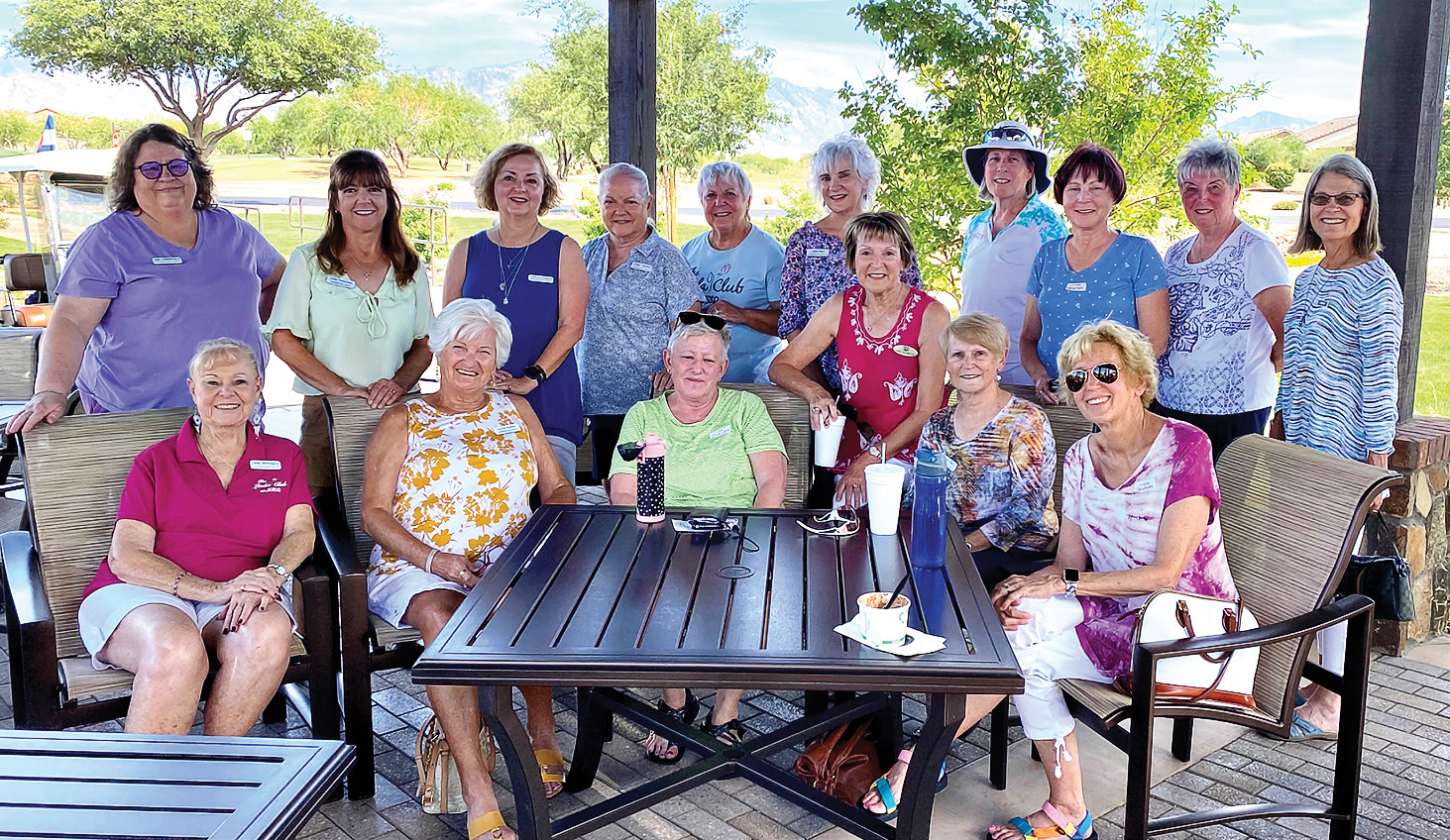 Linda Shannon-Hills
Ed's Dogs was buzzing one afternoon in June when fifteen of the Lindas from the Linda's Club met on the patio after the long quarantine. It was time to gather again, to socialize again, and to meet new Lindas who have moved to SaddleBrooke Ranch since the pandemic halted all gatherings of any club in March of 2020. Although only half of the Lindas who live at the Ranch attended, many have started traveling again or returning to summer homes.
The SaddleBrooke Linda's Club was started in 2013 when Linda Harvey and Linda Shannon-Hills (SH) were talking one day over coffee. Linda SH had received a newspaper article from her uncle living in Cedar Rapids, Iowa. The article was about the upcoming Linda's Club convention being held in Cedar Rapids. We both thought it was a great idea to start a Linda's Club at the Ranch. Our first gathering was lunch in Bistro Veinte.
Linda Harvey, Linda Parkinson, Linda Lasater, Linda Newton, Linda Richter, Linda Nicholson, Linda Hart, Linda Eckart, Linda Whittington, Linda Parker, Linda Keller, Linda Volz, Linda Zoellner, Linda Daubers, and Linda Shannon-Hills laughed, told stories and enjoyed gelato on this lovely afternoon.
In the past years, the Linda's Club members have had lunches together, enjoyed tea at the Lavender Farm in Oracle, trekked to St. Anthony's Monastery near Florence, visited the Tucson Art Museum, lunched at the Oracle Patio Café, hosted a Linda Trivia Social, and much more.
I bet you know a Linda. I bet she is somewhere between the ages of 52 to 74. Linda was a wildly popular name for girls in the United States from 1941 through 1963. A prime age for most SaddleBrooke Ranch residents, it was sure to bring many Lindas to the Ranch. What's the fascination with the name Linda? I mean, it's a lovely name—in Spanish it means beautiful—but why number one for six years straight? Linda broke the Mary streak, and Linda seems to be the only popular name attributed to a cultural craze. You may know the song "Linda," it was a huge hit for Buddy Clark back in February 1947. Yes, 1947, the same year that the name Linda hit number one with American parents for the first time!
This story has an interesting twist: the song was written in 1942 for 1-year-old Linda Eastman. The same Linda Eastman that would grow up to marry a guy named Paul McCartney—you may have heard of him? Did your parents name you Linda because of this song?
Come join the fun of the Linda's Club. Send an email to Linda Shannon-Hills at [email protected] or Linda Harvey at [email protected]