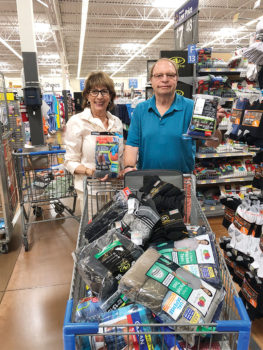 Carol Thompson
Community Church at SaddleBrooke (CCSB) plays a big part in helping the homeless through a program we call, "Drop Your Drawers." Every year we put on a drive to collect new underwear for men and women. This year we donated over 1,050 items to the Gospel Rescue Mission for this sole purpose.
This program began with the thought that even if they have to wear used outer clothing, at least they should have brand new underwear that has never been worn or used by another person. Members of CCSB donate new underwear, bras, socks, tank tops for women, t-shirts for men and nylons. Cash donations were also welcomed and shoppers Cathy Scott and Dick Kroese filled baskets of underwear from our local stores.
Community Church feels honored to do God's work for those that need it so much. CCSB is a Christ-centered Church with the mission to glorify God by becoming a community of grace where people will receive, live and share the love of Jesus Christ. Join us every Sunday at 8:30 a.m. in the DesertView Performing Arts Center in SaddleBrooke. All are welcome!