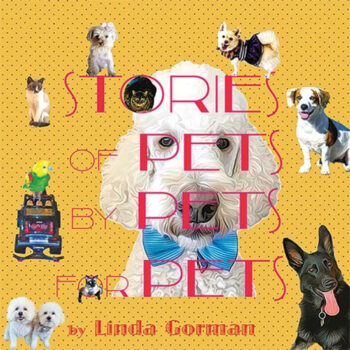 Linda and Ken Gorman
It all got crazy when Linda said, "Let's make an audiobook."
In early 2020, with her book just having been published, Linda welcomed the free time she'd gained. Then rumors started swirling around about a virus in China and within a few short weeks, we knew we were going to have a lot more time than we ever imagined, prompting me to ask, "Now what?"
Linda had been thinking about this for a while. The plan would be to use her book, Stories of Pets by Pets for Pets, comprising 22 short stories, as the audiobook script. We would just record ourselves reading it, and just like that, have an audiobook.
We knew nothing about producing audiobooks, but with extra time on our hands, we'd figure it out. I bought a professional-grade microphone, formalizing our commitment. We targeted July 2020 for product release.
The audiobook was about the premise "What if pets could talk?" Short stories about pets' antics and experiences would have to be presented by narrators talking for the pets … how exactly would that work? It was decided that we would do the talking for the pets.
We practiced playing with our voices, but mostly spent that time laughing. I hunted down some software that could change the pitch and/or pace of our voices. Talking fast (one of my strong points) and substantially lowering the speed gave me an authoritative sound, perfect for German shepherds. Talking like a parrot came naturally to Linda. Most of our experiments just caused uncontrolled laughter.
That quickly brought us to the serious question of how to professionally produce an audiobook, moreover, get it distributed and presented on major retail websites. We selected a particular distributor because of their services that would give us Amazon, iTunes, and Audible retail outlets.
Early trial recordings revealed we had some serious ambient noise problems. We could hear the sound of our dogs' toenails when they walked across the hardwood floor. When the air conditioner came on, our recording session came to a halt. The longer we could endure the rising temperatures in the Tucson summer heat, the longer we could do uninterrupted recordings. Making an audiobook is a sweaty job.
We decided it wouldn't be enough for us to talk like pets. We must have music and sound effects. Alas, our project turned into an audioPLAY, reminiscent of the pre-television radio shows!
We fell into a vast world of non-copyright royalty-free music and effects. During the hunt for music, I met a professional musician and songwriter who wrote eight children's musicals and performed piano at Oscars and Emmys shows. He loved our project and opened up his vast recordings library to us. We selected seven.
We found it difficult to cull candidates to about two dozen that matched up to the stories' themes, moods, and lengths. We kissed off about two months on that adventure!
I learned how to edit songs to change duration by cutting or duplicating verses. We didn't want the music to run over the full story, thereby adding more to the editing task. I hadn't yet thought about aligning music passages with story scenes and effects. I would pay dearly for that oversight later.
As June arrived, we decided to stop messing around and start recording. We managed to do the voice recordings at the rate of about one story per day. Laughing forced many retakes.
Next up, we needed to add sound effects. We had plenty to choose from: thunderstorms, car and truck traffic, animal sounds, doors closing, and more.
For each story, effects were placed across about a half dozen tracks, and the juggling of the voice snippets, song snippets, and sound effects began.
I pushed around music fragments and phrases and sentences sliced from source files to align music passages with the spoken word, and to bring effects in at just the right time. It's critical that the listener not have to make volume adjustments during a story, from one story to another, consistent with other audiobooks! Adjustments to timing and volume level of the various tracks, as well as adding fade in and out to music and effects, proved to be hugely time-consuming, tedious work.
After all that was done, the excruciatingly detailed task of eliminating noise and repairing distortion began. Even in perfect silence, noise will be heard in recordings. There's no escaping that. Software filtering helped, but much of the work required tediously tracking down noise "blips" and manually eliminating them using various audio processing techniques. Our time estimate for noise elimination was woefully wrong.
We used a trial submission service offered by the distributor to analytically determine whether we'd meet challenging audio specifications. The hard work paid off; the first pass was successful. If not, we might have terminated the project.
Through all that, our July target slipped to October. Then we encountered another setback.
When we submitted what was to be our final cut with all stories and credits merged into a single audio file that passed audio specifications, the distributor informed us that we did not meet very specific content rules for opening and closing credits. Their published specifications were vague. Doing the rework of those components and producing another final cut needing to pass through their complete verification process again cost us about two months.
We missed the holiday buying season, but we did, indeed, publish Stories of Pets by Pets for Pets as an audiobook, with it being offered on Amazon, iTunes, and Audible in January 2021. And of course we updated our website of the same name to include the audiobook with Linda's print books. A few "free listens" are provided on the sellers' websites as well as ours. See storiesofpetsbypetsforpets.com.
The positive feedback about bringing the pets to life and pleasing children of all ages unquestionably made this challenging journey through the unknown all worthwhile.