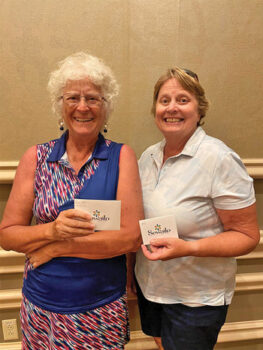 Beth Chamberlin
In late May and early June, the event previously known as "Home & Home & Home" was played. In 2022 the women's golf associations at SaddleBrooke Ranch, SaddleBrooke One, and Mountain View/Preserve renamed the event the SaddleBrooke Classic.
The SaddleBrooke Classic is a reciprocal event that is played annually, and always draws a big field from each of the clubs. On May 24, 33 members from the SaddleBrooke Ranch Women's Golf Association (SBRWGA) played at MountainView/Preserve. May 31 saw 35 Ranch golfers compete at SaddleBrooke One.
On June 14, the event came to the Ranch. The field was made up of 88 golfers, 42 of whom were from the Ranch. After each event the women gathered for lunch and awards at the respective clubs.