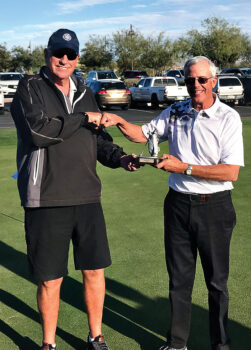 Mark Martin, SBRMGA Communications Director
Greetings to all of our residents at The Ranch from the SaddleBrooke Ranch Men's Golf Association (SBRMGA)! After delaying our Club Championship since April due to COVID-19 restrictions, we finally held our annual two-day event and crowned our 2020 Club Champion. We had seven flights that were all very competitive and the format was gross scores.
In our Championship flight, Steve Thompson took the prize with a winning score of 151. Steve edged out Jeff Pharr, last years' Champ who had a very nice score of 154. This was Steve's second Club Championship (he won in 2018). Congratulations to Steve!
Our next six flight winners were as follows:
A flight: Don Carr; B flight: Ed Cheszed; C flight: Alan Ness; D flight: Tim McCauley; E flight: Bill Hawk; F flight: Ed Robertson.
Congratulations to all of our winners!
After also postponing our Founders Cup Championship (Low Net) we held that tournament one week later (also a two-day event). This event honors the SBRMGA's 14 founding members. These golfers came together in 2010 and worked with the Arizona Golf Association to establish the SBRMGA!
After battling it out over four playoff holes, Jayson Claar was victorious over Jeff Silver. That was a lot of golf played over a two-week period! Congratulations to Jayson for his nail-biting performance.
In the past year, the Men's Golf Association incorporated numerous changes because of the COVID-19 restrictions. Our goal is, and has always been to promote good fellowship among our members. We have worked diligently to ensure we met these goals during the unprecedented restrictions required by the COVID-19 virus.
We are proud to be a dynamic and growing organization supporting the residents of SBR. The MGA now has 260 members, including 48 new members in 2020.
We also want to recognize three of our members that displayed pinpoint accuracy this year. Dave Hansel, Paul Lapotosky, and Mike Mycka each had a hole in one on league play day. Well done!
That's it for this edition. May your holiday season be joyful and safe!