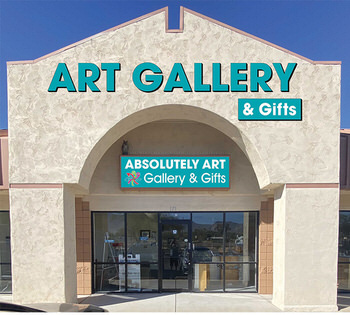 Absolutely Art Gallery & Gifts opened on Nov. 1, 2017, in Catalina. Pam Gappa, owner and artist, was asked some questions to reflect on the past four years since the gallery opened.
After operating your gallery for over four years, complete this sentence: "Who would have thought …" "… a dream could end up bringing so many people so much pleasure." Absolutely Art Gallery & Gifts has the work of over 100 Arizona artists and offers art and gifts in all price ranges. Our artists love creating custom pieces for our customers. We also restore and conduct appraisals of artwork.
What influenced you to open an art gallery? Four things: My father was an artist and ran art galleries and institutions. My mother was a seamstress and opened a gift shop. Art was my major. I moved to SaddleBrooke, and I was fortunate to be introduced to fused glass and have found my passion!
What prepared you in your professional background to successfully operate an art gallery? I enjoy being involved with a diverse group of people, all working for the same end result of providing pleasure for our customers in an inviting and welcoming atmosphere.
We offer art workshops to the public and will be expanding in 2022 as we are taking on a bigger space. The new gallery is in the same center and has three times our current size. Part of our new space is dedicated to workshops. The workshops are listed on our website www.absolutelyartgallery.com. We have room for groups looking for meeting space. Contact us at 520-818-1242.
What makes your gallery unique? Our customers know they will be greeted with a smile, see new art in over 30 mediums, and that it is a "happy place."
We feel honored to have received Best Art Gallery in Tucson from AZ Daily Star Reader's Choice for the past four years.
What surprises you the most about the gallery? The loyalty of our customers and artists. What do you mean by that comment? During the worst of the pandemic our customers called, asked us to ship for them, they picked items up at our door and we delivered. They did not want us to go away!
The gallery has grown over the past four plus years, and I attribute this to the creativity of our artists, our new and repeat loyal customers, and referrals.
The most fun part of the gallery for me is being with our customers and the artists. The most satisfying thing about the gallery is having our customers leave with something that made them happy, whether it was just looking around and seeing something that made them smile, or finding that perfect gift or piece of jewelry for themselves.
Absolutely Art Gallery & Gifts is a proud member of the Oro Valley Chamber of Commerce. Please look for special events on our website and in local publications.
Absolutely Art Gallery & Gifts is located in Catalina Palms Plaza, just south of Camp Bow Wow, on Oracle at 16701 N. Oracle Rd.