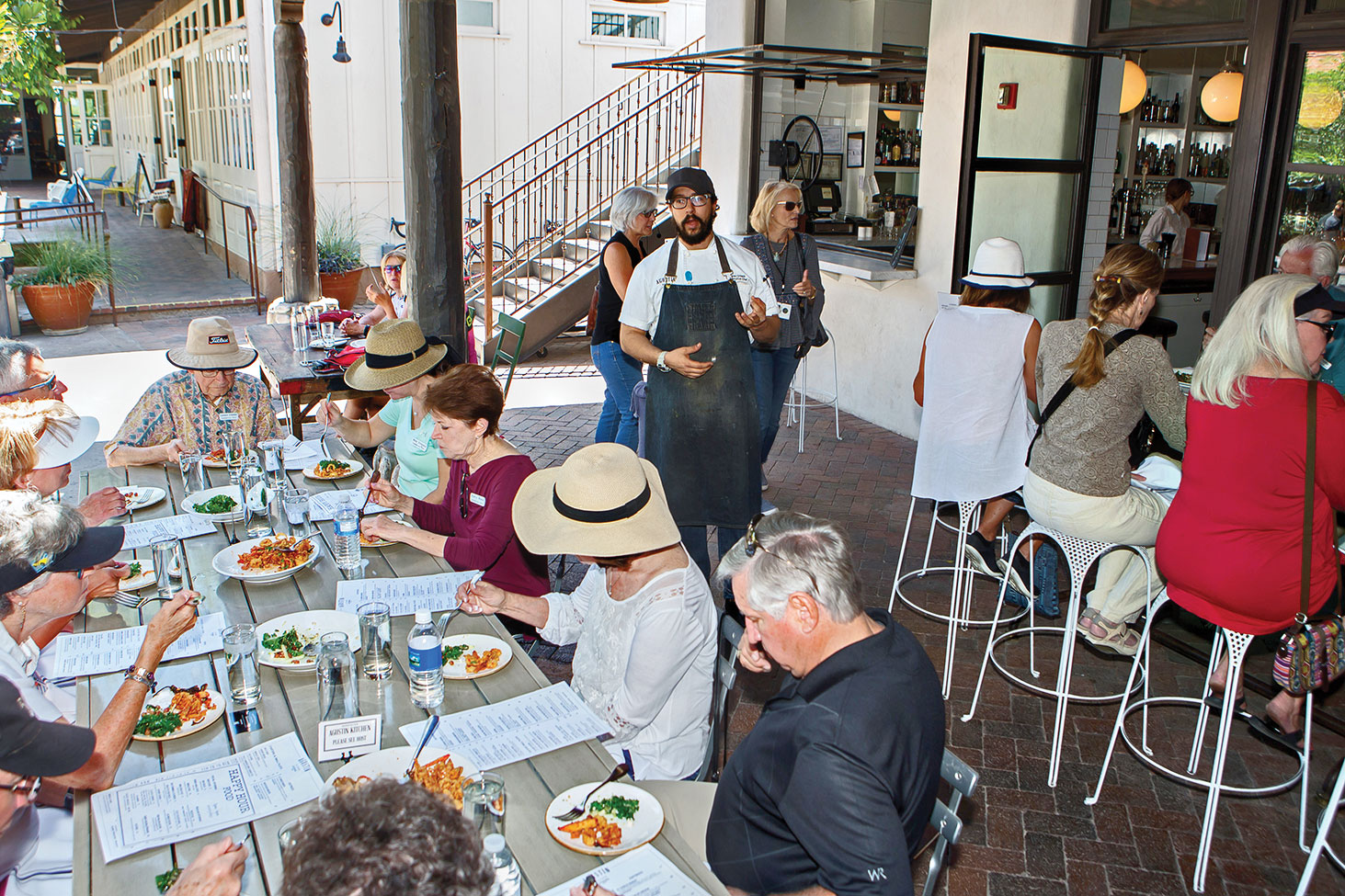 Steve Weiss
If you want a sampling of foods from various Tucson restaurants, learn about the history and culture of Tucson, and take a fun ride on the Tucson street car, then you should take the Taste of Tucson downtown culinary and cultural tour. A group of 21 SaddleBrooke Ranch unit 8 residents took the tour on April 18 and had a wonderful afternoon and sampled food from five locations.
The tour began at noon outside the Augustin Kitchen Restaurant at the Mercado san Augustin on the west side of Tucson. After receiving a brief introduction and our 24-hour street car pass, we proceeded to the Augustin Kitchen. Our first plate tasting included a kale salad and a calamari appetizer. Alex O'Neill, executive chef of Augustin Kitchen, explained what was in each course and emphasized that many of the vegetables and meats served in his restaurant were grown locally with his menu changing based upon the availability of the vegetables in season. We next hopped on the street car and headed downtown.
At our first stop across from Veinte de Agosto park, we saw pieces of artwork representing the five C's of Tucson which are climate, citrus, cattle, cotton and copper. We then crossed the street to the park where we saw a statue of Pancho Villa and the remaining foundation from an ancient church. A short distance away was the tallest building in Tucson with a whopping 23 floors which is simply called the One South Church building. If you occupy more than 25,000 square feet you can have your name placed on the building.
Down the street was Café Milano. Chef Fulvia Steffenone served mostaccioli marinara with pesto and explained about the restaurant that she owns with her husband. Chef Fulvia was also proud to tell us about the Italian wine pairings offered with her new menu and the many Italian cooking classes she teaches at her restaurant. Surprisingly one of our tour guides makes desserts for sale in this home style Italian restaurant.
Our next stop was the Fox Theater. The technical director at the Fox, Jeff Rodenkirch, told us that the walls were made from a special porous stone that absorbs sound. That absorption reduces the echo, giving the Fox great acoustics that the audience and performers appreciate. When the theater was rehabilitated in 2006 the stone was no longer available naturally and had to be manufactured especially for the Fox. The theater originally opened in 1930 with some vaudeville shows and movies and closed in 1974 because of the decline of the downtown area. It reopened in 2006 after a $14 million restoration and has been very successful. The theater currently hosts many top name entertainers.
We next went to Elliot's on Congress where we were served a pulled duck slider. This establishment is also known for and specializes in a wide variety of infused vodkas. On our way out toward Charros Steak Restaurant, we saw some very colorful two-story murals and then stopped in the bar at the Hotel Congress. This is the hotel where John Dillinger stayed before his capture. We learned that some guests who have recently stayed overnight at the hotel claimed to have heard ghosts.
Our last stop before returning for our final street car ride was for dessert at the Screamery. They boast that all of their ice cream is made with milk from 100 percent grass fed cows. Don't worry none of us could taste the grass. You can't go wrong with flavors like Bacon and Bourbon (non-alcoholic), Snickery Delight, Strannana, or Ooey Gooey Buttercake.
Not only did we enjoy a great variety of interesting foods offered by Tucson restaurants but we also learned a bit about the history of Tucson. If you want information about taking one of these tours, which include visits to a rotating choice of other historic locations and restaurants, click on www.tasteoftucsondonwtown.com.